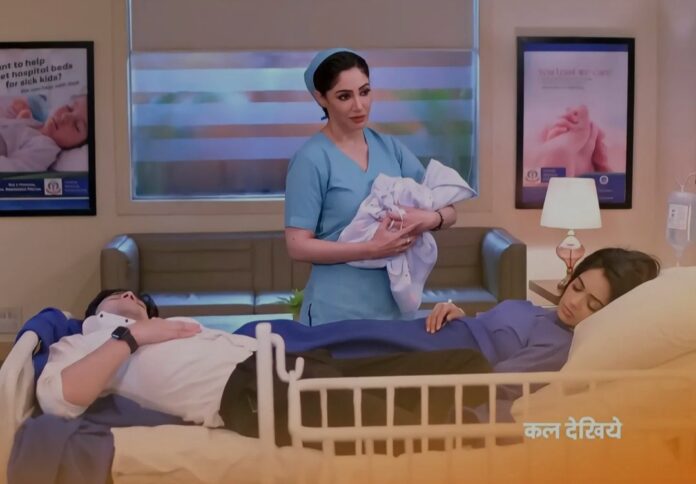 Kumkum Bhagya Spoilers, Upcoming Story, Latest Gossip , Future Story, Latest News and Upcoming Twist on SerialGossip.in
Zee TV Popular show Kumkum Bhagya is attracting viewers with an interesting storyline. currently, Ranbir and Prachi are blessed with a babygirl has glued the audience to the screens.
As reported earlier Ranbir and Rhea admit Prachi in the hospital. Alia escapes from the police.
She reaches Kohli's house and learns Prachi is admitted in the hospital for her delivery. At the hospital, The nurse comes out and tells Ranbir that they are blessed with a baby girl. Ranbir and his family celebrate. The doctor comes out and asks them to not disturb other patients and tells them they can celebrate in the waiting room.
Ranbir asks if they can meet Prachi and the baby. The doctor says the father of the baby can meet them. Ranbir goes to meet them. Ranbir feels emotional holding the baby. Prachi and Ranbir feel happy seeing their baby.
Prachi asks Ranbir how is he feeling. Ranbir places the baby in her lap and says he doesn't know what to say and asks what's her feeling. Prachi says she is feeling like a complete woman. Ranbir notices a mark on the baby's feet and asks Prachi what's it.
Prachi says it's birth Mark. Ranbir points mark is like moon and star. The doctor comes there and asks Ranbir to place the baby in the swing and tells him that she has to check Prachi and baby.
On another side, Alia makes the nurse unconscious and changes herself into as nurse. She learns from Shahana and Aryan that Prachi is blessed with a baby girl.
In the upcoming episode, viewers are going to witness Ranbir and Prachi being happy with their daughter and chatting about their future with their baby girl. Alia comes there and gives injection to Prachi. Prachi faints then Alia injects an injection to Ranbir from the back. Ranbir faints.
Alia steals their baby and says to unconscious Prachi 'you used Rhea against me and now I will use your baby against you'.
Will Prachi and Ranbir be able to find their baby?
All these questions will be answered in the upcoming episodes.
To know what will happen next in your favorite show, keep checking this space for new and exclusive updates.