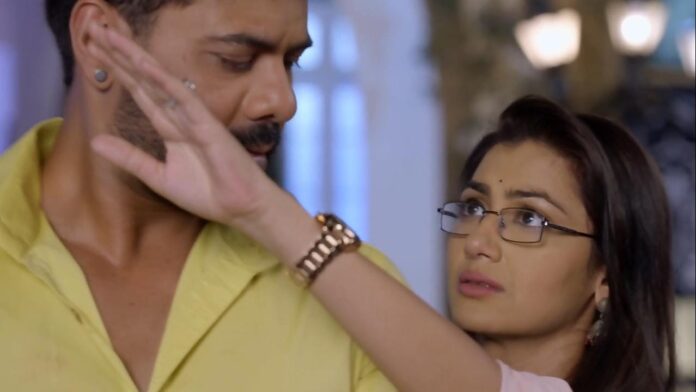 Kumkum Bhagya Upcoming Story, Spoilers, Latest News, Gossips, Twist On SerialGossip.in
Zee TV popular show Kumkum Bhagya serial is witnessing some major turning points these days in their story.
As reported earlier Sarita asks Pragya to save her love before she loose him to Meera. Next day Pragya and her family reaches to Haldi ceremony. Ranbir sees Prachi and she tries to escape from him but Ranbir confronts her saying he knows that she loves him and He applies haldi to her hand and says they gonna marry after completing every ritual and you don't want rich guy but wants the guy who loves you like me and it's my challenge that you will tell to me by yourself that you want to marry me breaking your lies. Rhea gets angry seeing them. Ranbir goes aside to attend Aryan call. Rhea comes to Prachi. Prachi asks when she gonna stop marriage. Rhea assures her to stop the marriage on time. Ranbir comes there. Prachi goes seeing him. Rhea stops Ranbir and asks why he is running behind person who don't love him. Ranbir asks her not to stop him. Rhea shouts at him. Abhi asks Pragya to apply Haldi to him. Pragya about to apply haldi but falls on Abhi and his haldi gets applied to her face and she left from that place.
In the upcoming episode viewers gonna witness that Abhi comes behind Pragya and pins her to wall. Pragya says don't come closer otherwise Haldi may applied again. Abhi says he likes to irritate her and again he applies Haldi to her cheeks. Both shares blissful eyelock. Abhi tells her that it's in her hands to stop his marriage with Meera. Ranbir asks Rhea to stay away from his matters, Rhea furiosly attacks him with her words but he ignores her warnings and goes to search Prachi.
Can Ranbir found truth behind Prachi change? How Pragya gonna stop Abhi marriage?
All these questions will be answered in the upcoming episodes.
To know what will happen next in your favorite show, keep checking this space for new and exclusive updates.