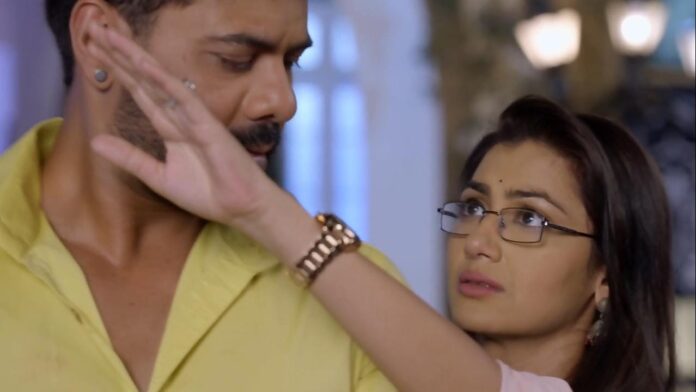 Kumkum Bhagya Upcoming Story, Spoilers, Latest News, Gossips, Twist On SerialGossip.in
Episode starts with Abhi says someone wants to kill you and they runs from shooter. Pragya reminsces that biker and tells to Abhi that he is taking revenge for accident, let me talk with him and she explains to Shooter that it's accident why you want to kill me. Shooter about to shoot them but car comes in-between than Abhi runs with Pragya saying he don't want to loose her again and they sits in car than Abhi notices car key is missing. They comes out. Shooter aims gun at them but gun is empty.
Abhi asks him to open his mask than he gets Purab call and he cuts call saying revenge ki shoot is going on. Shooter opens his mask saying he will fulfill the wishes of people who's going to be dead and he aims his pistol at Abhi. Pragya throws stone at him which makes him drop the gun. Abhi makes him fell down and he runs with Pragya that time he gets Purab call. Purab says I called you to congratulate you, why are you showing attitude. Pragya takes phone and tells to Purab about how the accident wala person wants to shoot them. Purab asks them to comeout saying he will call police. Purab calls commissioner.
Digvijay calls Shooter and gets to know Abhi and Pragya ran away. Digvijay says he hire few more people to kill Abhi and Pragya. Abhi and Pragya escapes from shooter taking Horse of groom.
Ranbir gets Rhea call. Rhea asks where are you, did you like the dress. Ranbir sees Prachi coming in dress bought by his Mom and tells it's the most beautiful thing which I have ever seen than he hears Temple bell in call. Rhea says yeah that dress is good. Ranbir asks if she is in temple. Rhea cuts call and thinks to surprise him. Pragya and Abhi romantic nokhjokh continues and than they notices shooter is following them in bike. Abhi says let's take village route than this biker can't follow us. Pragya agrees.
Ranbir sees Rhea at temple, he takes Prachi and Shahana with him asking Aryan to manage to Rhea. Watchmen asks killers to meet Digvijay in hall. Horse won't move after sometime. Professional Killers of city waits for Digvijay in hall and thinks whom they have to kill. Digvijay meets them and says it's competition between you, prize money is 2crores and you guys have 12hours time, amount will be reduced with time. They asks if he had any old rivalry with Abhi. Digvijay says they don't need to know and provides them Photos of Abhi and Pragya.