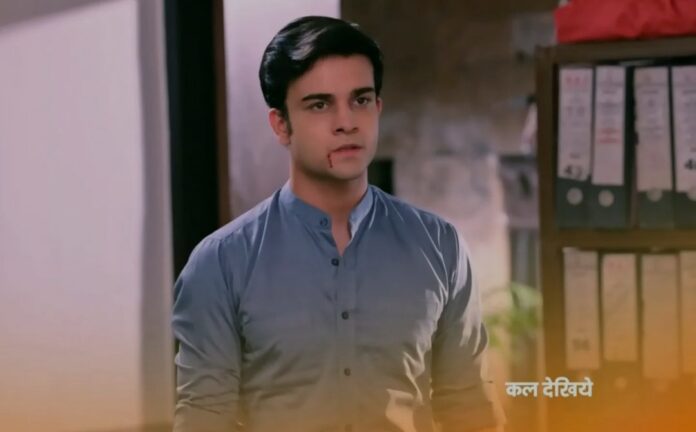 Kumkum Bhagya Spoilers, Upcoming Story, Latest Gossip , Future Story, Latest News and Upcoming Twist on SerialGossip.in
Zee TV Popular show Kumkum Bhagya is attracting viewers with an interesting storyline. currently, Balbir asks Laali to testify against Ranbir has glued the audience to the screens.
As reported earlier, Khushi tries to help Ranbir by beating Balbir and his friends with the plate. Laali ousts Khushi from the house.
Khushi asks the neighbor lady to call the police. A neighbor lady calls the police. Khushi takes the phone and complaints to the police. Khushi diverts Balbir and his friends sometime by playing police siren. Then Police come there and arrest them.
Khushi tells Police that Ranbir is innocent. Inspector says they will leave him once his innocence is proven. Khushi cries.
Khushi calls Prachi. Prachi hears Khushi crying and asks her why she is crying. Khushi reveals to her the issue that happened between Ranbir and Laali's boyfriend.
She requests Prachi to save her Shiv and tells her that she is going to the Police station. Prachi agrees. Prachi lies to Dadi and leaves for the police station. At the police station, Balbir convinces Laali to testify against Ranbir
In the upcoming episode, viewers are going to witness Khushi refusing to lie. Laali threatens Khushi to tell that Ranbir has beaten her, or else she will leave her.
Khushi gets shocked. Laali asks Inspector to see how this man Ranbir has beaten her daughter. Laali and Balbir smile upon seeing each other.
Whom will Khushi support? Will Prachi be able to prove Ranbir's innocence?
All these questions will be answered in the upcoming episodes.
To know what will happen next in your favorite show, keep checking this space for new and exclusive updates.