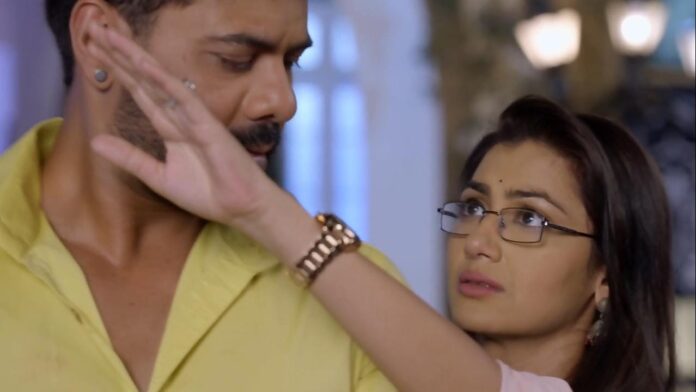 Kumkum Bhagya Upcoming Story, Spoilers, Latest News, Gossips, Twist On SerialGossip.in
Episode starts with Pragya says you're marrying Meera. Abhi says you want it to happen right that's why I'm fulfilling your wish, you will attend the function right? I will wait for you. Pragya says she is waiting for the day. Abhi asks are you happy. Pragya says I will show my happiness by dancing at your marriage. Abhi asks her to perform in engagement day itself and asks her to come for sure. Pragya says she will definitely attend the function. Abhi leaves from that place. Prachi follows him. Pragya in tears thinks how can he give his wedding invitation to me. Saritha overhears everything.
Prachi stops Abhi and questions him why he is doing this to her Mom who waits for him In years. Abhi says your Mom can reach me in last 20years because it's easy to found my address and I'm doing this marriage because of your Mom and some of the reason is you and Rhea too. Abhi leaves in his car.
Abhi and Pragya cries. Pragya tears the invitation card and throws it. Pragya throws the purse which had Pragya pic and leaves in his car. Pragya burns the card. Abhi goes back to that place and takes the purse and kisses Pragya pic.
Saritha asks what happened Prachi. Prachi says Dad is saying he is marrying Meera aunty because of me and Rhea and says he loves us. Saritha says he loves you and that's why he is marrying someone seeing your fights with Rhea. Prachi says she can't thinks this is the reason and thinks to ask Pragya about actual reason.
Mitali asks for tea. Meera goes to get tea. Aliya stops Meera asking her to learn to pass orders. Meera says she doing it for her happiness. Abhi tells to Meera that he invited Pragya to their engagement and tells to everyone that special guest who he invited is Pragya and asks them to take care of her. Meera agrees. Rhea asks why he invited Pragya. Abhi says to clear the misconceptions and leaves from that place. Aliya says why you guys tensed? It's happening for good and now you can answer to Prachi and Pragya that you got best Mom so go and try your dress. Rhea goes.
Mitali says it's good right Abhi invited Pragya. Aliya says I consoled Rhea but it's not good to keep Abhi and Pragya together so I will make Meera to stay near Abhi to make Pragya feel that Bhai likes Meera from years. Mitali says another lie. Aliya says she will lie until she separates Pragya from Abhi.
Prachi goes to her Mom room and says it will be hurting for you right? Because you always praise Dad. Pragya says he is still good and now I have to choose best dress for his engagement. Dadi comes to that place and tells to Prachi that she wants to talk with her Mom. Prachi goes out. Dadi asks Pragya to stop Abhi. Pragya says i can't do anything because he came here to invite me for his marriage so we have to stay happy for him. Dadi hugs Pragya and leaves in tears.
Ranbir feeds food to Mom. Pallavi says she is proud to have son like him. Ranbir asks her to take rest. Pallavi goes to her room. Ranbir mood changes to sad. Aryan asks what happened. Ranbir says his heart didn't either properly until he saw Prachi is fine and I saw so much love for me in her eyes and Prachi will get hurt if I tell her about recent changes and I can't bear this pain. Pallavi listens everything. Aryan asks what he mean to say. Ranbir says I can't tell Prachi that our breakup is because of Mom because I can't see her opinion changed about my Mom so I will make Prachi hate me. Aryan says you're mad, can you bear Prachi hate? Ranbir says he can. Pallavi sadly goes to room in tears. Vikram asks what happened. Pallavi says Ranbir is so good and I heard that Ranbir is planning to make Prachi hate him and I saw so much pain in his face. Vikram asks Pallavi to allow Ranbir to marry Prachi. Pallavi says Ranbir life gets ruined like Abhi because Prachi is Pragya daughter. Vikram asks her to rethink but Pallavi denies.
Next day Rhea gives dress to her Dad. Abhi asks if she is happy. Rhea says she is so happy and asks Abhi to get ready and leaves. Abhi thinks he have to marry for Rhea happiness.