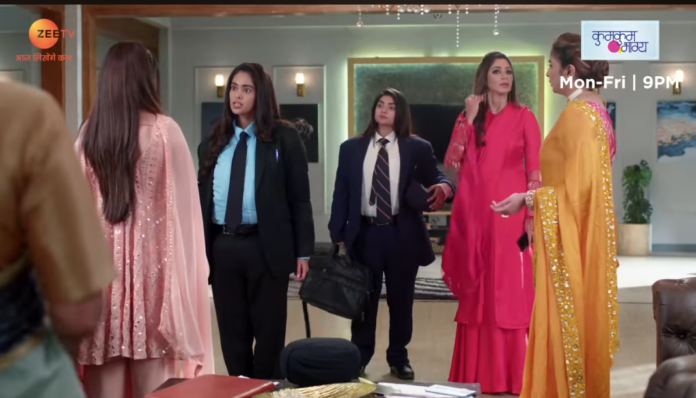 Kumkum Bhagya Spoilers, Upcoming Story, Latest Gossip , Future Story, Latest News and Upcoming Twist on SerialGossip.in
Zee TV Popular show Kumkum Bhagya is attracting viewers with an interesting storyline and the twist and turns of the show have glued the audience to the screens.
As reported earlier it's shown, Pallavi advised Rhea to let Ranbir throw Prachi things then Prachi will get a message that she was no one to him so concentrate on Ranbir and if he accepts you then Prachi can't do anything then Rhea agrees. Pallavi called Ranbir and got to know he was out of Delhi.
The next day Jai came to Vikram's house for files. Ranbir returned to India and thanked Jai for informing him. Pallavi overheard their conversation and she asked her husband to do something. Vikram left saying he can't remove Prachi from his thoughts. Ranbir felt sad seeing Prachi's state and he argued with Inspector to release Prachi from lockup. Inspector puts him behind bars. Prachi and Ranbir fought with each other. Lady in cell said don't scold her as she is pregnant.
Ranbir felt surprised and asks if it was true. Lady said I got to know through their conversation. Aliya advised Pallavi to hide Ranbir helping Prachi matter from Rhea and they planned to arrange the best Lohri for Rhea.
In the upcoming episode, viewers gonna witness that Rhea will tell to Pallavi and others that Ranbir still didn't come to home then Dadi asks if they didn't tell her? Rhea looks on. Prachi tells Ranbir that she is not the Prachi with whom he fell in love then Ranbir says exactly my feeling as no one in the world can love this changed Prachi.
Will Rhea find Ranbir's hand in Prachi's release? Will Prachi be able to escape from the fake case?
All these questions will be answered in the upcoming episodes.
To know what will happen next in your favorite show, keep checking this space for new and exclusive updates.