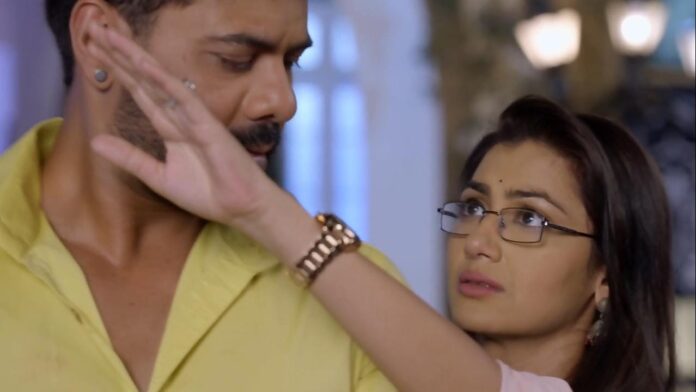 Kumkum Bhagya Upcoming Story, Spoilers, Latest News, Gossips, Twist On SerialGossip.in
Episode starts with Abhi and Pragya congratulate eachother for finishing their marriage successfully than he ties white Dhaga to Pragya hand and asks her to never break it thinking it's sign of my love like Mangalsutra and keep it with you. Pragya ties white thread to him and tells him that this thread reminds you my love and keep it with you everytime. Abhi places Kumkum on Pragya maang and tells noone can separate us, are you happy. Pragya says happy and hugs him. Some couple smile seeing Pragya and Abhi.
Digvijay questions Commissioner how his inspector can arrest his men. Commissioner says he is sincere officer and he don't have brother like you to kidnap his own nephew. Digvijay says you mean I'm bad brother. Commissioner says you don't respect our relation otherwise you can never kidnap your own nephew. Digvijay asks Commissioner to remove inspector from his job. Commissioner says he can't and questions why he wants to kill Abhishek Mehra. Digvijay says get to know from Abhi only because he snatched important thing from me and he deserves death as his punishment. Commissioner asks him to answer directly. Digvijay says I may told you if you're in my brother position but now you're in commissioner position and noone can save Abhi from me. Commissioner prays god to save Abhi family from Digvijay clutches.
Digvijay gives Abhi and Pragya photos to some men and he hurts his hand remembering his brother words. Purab wants to welcome Pragya and Abhi. Dadi asks him to do it. Saritha says Pragya is correct, you're kid and she gives welcoming Taali to him. Kumkum plate fell down from Tai hand, Tai worriedly says seems like something inauspicious going to happen. Saritha prays god to save Pragya and Abhi from dangers.
Abhi tells to Pragya that they lost way and he tries to romance with her. Pragya asks him to stop the car so they can know the route , that time Abhi notices police and tells him that they lost way. Inspector says you're in correct way, some people wants to kill you that's why department sent me to you as security until you reach safe place. Abhi thanks them. Inspector and his helper sits in Abhi car and he asks other Contestables to follow them in police vehicle. Inspector is turns to be Digvijay man who wants to kill Abhi.
Pallavi tries to tell Vikram about Meera. Vikram says I know it and you can maintain touch with her because she is your friend and he asks her about Ranbir. Pallavi tells him he is at upstairs. Vikram goes to Ranbir room. Pallavi thinks she knows what to do. and goes to Ranbir room and asks Vikram to allow Ranbir to take rest saying Ranbir health is not good. Ranbir thinks whether they found his marriage plan than he notices 34missed calls. Pallavi asks what he did. Vikram tells how Ranbir pranked Rhea telling Abhi life is in danger but his prank become real and someone is behind Abhi life, glad he is safe now, never play these kind of pranks with your mouth otherwise they may become real. Ranbir smiles and says you love Chief more than Mom, if my tongue power is real than you must get chief call in a minute. Pallavi asks what's he saying. Ranbir says I just said it prove that dad words are just superstitious.
Purab notices papers are missing from file. Dadi and Saritha notices he is packing bags and asks where is he going. Purab says he is going tomorrow for company work. Dadi asks if Abhi and Pragya are fine. Purab says they are fine and sit here I will call Abhi. Pragya says it's long, how much they need to travel. Inspector says they are almost reached, than they reaches to place. Pragya says it's farm house, why it's decorated. Inspector tells them that his sister Sangeet is happening. Pragya says ok. Inspector about to return car keys to Abhi than Contestables inform him that someone is following them.