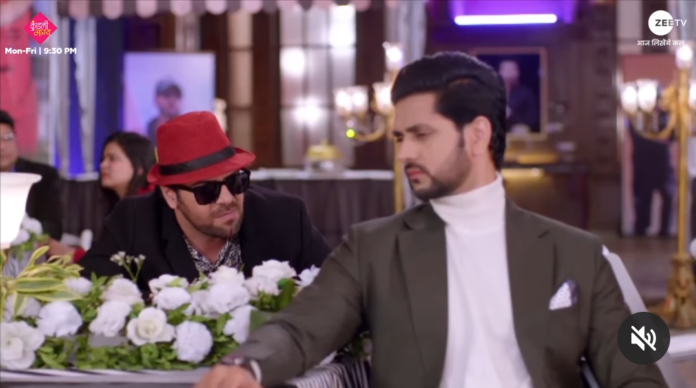 Kundali Bhagya 21st July 2022 Written Update on SerialGossip.in
Episode begins with Rishabh thinks that he has to keep his family safe from Arjun. He tells his staffs to tell Arjun to leave politely and if Arjun did not listen them then they can call the Police. On the other hand, Rakhi asks Sameer that why he is in hurry. He tells her about Arjun's actions. She asks him to not tell about it to Preeta. He tells her that he won't tell and leaves the house. Srishti asks Rakhi that why the latter likes Arjun when he creates so many problems for them.
Rakhi tells her that she just want to keep Preeta safe. She says that she gets weird feeling seeing Arjun. She informs her that she blessed Arjun because her heart told her to do that. She adds that she is worried about Preeta. Srishti tells her that she could not sleep yesterday. She says that she gets good vibes from Arjun. But she is not understanding that why Arjun behaved like that with Preeta. Rakhi asks Srishti to close the windows because seems like storm going to come.
Arjun thinks that he was happy thinking that he can meet his family but that did not happen. Anjali hopes that Arjun does not do anything in anger for which he regrets later. Arjun thinks that he won't let Rishabh make one more mistake. He calls someone and asks that person to meet him.
Rakhi notices that garland fell from Karan's photo. She tells Srishti that this is happening from the time Pandit Vashishth said that Karan is alive. Srishti tells her that they should not put garland on Karan's photo. Rakhi tells her that she feels Karan's presence. Dida comes there and asks them that why they seems tensed. Srishti tells her that Arjun troubling Preeta. Dida tells her that she will talk to Arjun. Rakhi asks them to not tell about Arjun's actions to Preeta. Dida leaves for Arora house.
Preeta overhears their conversation and she goes to her room. She calls Rishabh and tells him that she is sure that Arjun want to harm them. She asks him to stay safe from Arjun. Rishabh asks her to not think about Arjun. She tells him that she is worried about him. She adds that Arjun will try to attack them. She warns him to stay away from Arjun. He asks her to not worry about anything. He tells her that he will drop Kavya in the house safely and disconnects the call.
Arjun meets a goon and asks him to kill Rishabh. He gives Rishabh's details to him. Goon tells him that the latter can see the live telecast of Rishabh's death. After some time, Anjali reaches a office and asks Arjun that whose office is this. He shows Luthra industries to her. He informs her that he brought this office to watch everything closely. She learns that he hired a goon to kill Rishabh. She scolds Arjun. He tells her that Rishabh is not his brother.
Episode ends.
Precap – Rishabh gets hit by truck.
Click to read: