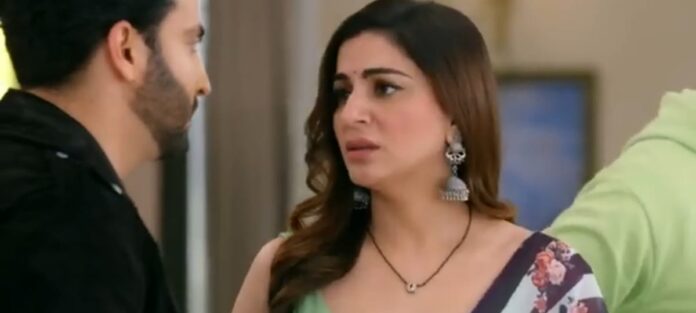 Kundali Bhagya Spoilers, Upcoming Story, Latest Gossip , Future Story, Latest News and Upcoming Twist on SerialGossip.in
Zee TV show Kundali Bhagya has been around for a long time now and it was an audience favorite at all times. Now, Rishabh got arrested in attempt to murder case so it will be interesting to watch that what going to happen in the future episodes.
Earlier it's seen that, Rishabh adviced Karan to not trust anyone blindly except Preeta and slept. Next day, Rishabh thought he can't tolerate anymore and screamed. Everyone came to the hall hearing his scream. Rishabh told Kritika that he knows that he is going to spoil her birthday but he can't wait for a second also now and he is about to tell the truth but stops seeing Police there.
Police inspector revealed that he came to arrest Rishabh in attempt to murder case. He informed them that Sandeep gave complain against Rishabh and he checked CCTV footage too. Rishabh informed Luthra's that Sandeep used to work in their company but Sandeep betrayed so he fired him. Luthra's defended Rishabh but Police arrested Rishabh and took him from there.
In the upcoming episode, Preeta will take Karan to hospital to meet Sandeep to convince him to withdraw the case. She will wear Doctor coat to enter Sandeep's room. Karan will leave the hospital after learning that Mahesh's condition got worsen. Disguised Prithvi will enter Sandeep room and he will offer 20 lakhs to follow his orders in Rishabh's case. Preeta will enter the room so Prithvi will hide. She will tell Sandeep that she is ready to give 50 lakhs to withdraw the case.
She will leave the room when Nurse entered. Prithvi will think he can't beat Preeta's offer so he will threaten to kill Sandeep without Nurse's knowledge. Preeta will enter the room again and Sandeep will scold her saying that he is not greedy to accept her offer. She will reach Luthra mansion with Srishti. Then she will tell Karan that she will make sure that Rishabh comes out of jail. Sarla will meet Rishabh.
What will be Preeta's next plan? What will be Prithvi's next move?
All these questions will be answered in the upcoming episodes.
To know what will happen next in your favorite show Kundali Bhagya, stay tuned to this space.