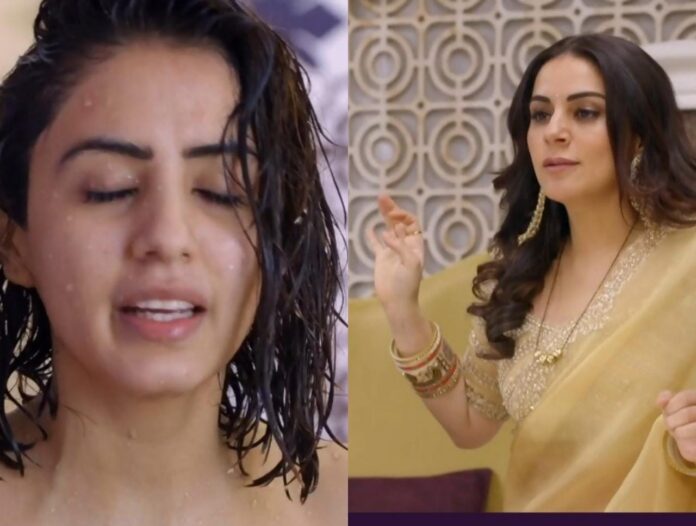 Kundali Bhagya Spoilers, Upcoming Story, Latest Gossip , Future Story, Latest News and Upcoming Twist on SerialGossip.in
Zee TV show Kundali Bhagya has been around for a long time now and it was an audience favorite at all times. Now, Sonakshi claims that Pihu is her and Karan's daughter so it will be interesting to watch that what going to happen in the future episodes.
Earlier it's seen that, Sarla and Srishti reached Luthra mansion to meet Pihu. Everyone learnt that Pihu is missing and they searched her. Sherlyn thought Luthra's became mad in Pihu's love. Srishti found Pihu in the kitchen and took her out of the kitchen. She informed others that Pihu was playing hide and seek. Everyone got relieved seeing Pihu. Preeta asked Pihu to inform her next time. Prithvi stole important files from Luthra mansion to destroy their business. Dadi felt something bad going to happen. They got shocked seeing Sonakshi in Luthra mansion.
In the upcoming episode, Sonakshi will cry hugging Pihu. Preeta will take Pihu from her and she will ask Kritika to take Pihu to play room. Luthra's will ask Sonakshi that why the latter returned. Kareena will lash out at her for returning. She will accuse her saying that the latter revealed the truth in front of society to spoil their image. Mahesh will ask Sonakshi to leave from there. Sonakshi will refuse to leave. She will say to Karan that she have something to tell him. He will refuse to listen her and he will ask her to leave the house.
Kareena will tell Sonakshi that they don't care that what happened in the past and Karan's present and future is Preeta so the latter can't come in between Karan and Preeta. Sonakshi will tell them that her and Karan's daughter is alive. She will reveal that Pihu is her and Karan's daughter which will shock everyone. Sherlyn will inform Prithvi about Sonakshi's claims. Pihu will ask Preeta that why the latter crying. Preeta will tell her to go inside. Sonakshi will say to Pihu that she is the latter's mother. Preeta will yell at her.
Is Sonakshi telling the truth? How Preeta will react now?
All these questions will be answered in the upcoming episodes.
To know what will happen next in your favorite show Kundali Bhagya, stay tuned to this space.