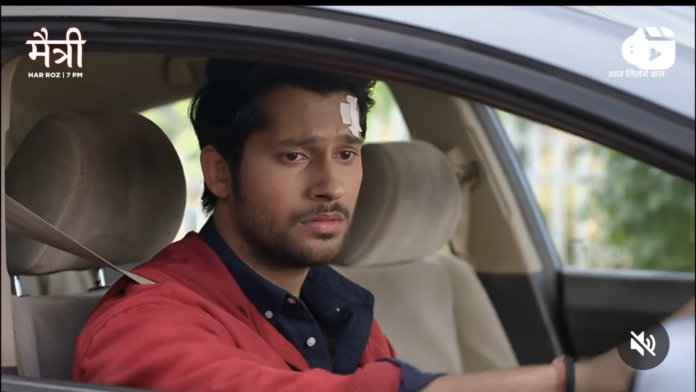 Maitree Spoilers, Upcoming Story, Latest Gossip , Future Story, Latest News and Upcoming Twist on SerialGossip.in
Zee TV new show Maitree serial is witnessing some major turning points where Sona ousts Maitree from the house.
As reported earlier, Maitree and Ashish return home from the hospital with the baby. Transgender people witness the baby's return. They begin to dance around Maitree and the baby while playing dholak without listening to Om.
Maitree is tense. Kusum tries to stop Sona but she fails. Sona sees Maitree wearing a bindi and brings the baby home. Sona sends Transgenders giving money.
Maitree and Ashish are about to take the baby inside.
Sona stops Maitree from entering the house. Om and Kusum explain to Sona that it was not Maitree's mistake and we asked Maitree to bring the baby home as Doctor denied giving the baby to Ashish. Sona sees Saransh in the baby. She takes the baby happily.
Maitree tries to enter the house. Sona stops Maitree from entering the house. She closes the door.
Vasundhara's brother's wife and his children come to Vasundhara's house to take care of Nandini's baby. She asks where is baby.
Vasundhara says very soon Nandini and the baby will be here. She leaves. Vasundhara's brother tells his wife that their kids won't be heirs of Vasundhara's property if Nandini and her baby return.
Raj Kumar says they have to stop their return. Vasundhara's niece scolds their views but they don't listen to her.
Ashish tells Maitree that their house doesn't deserve her and asks Maitree to return home. Maitree refuses to leave the house. Baby cries badly. Family members fail to feed baby. Maitree enters the house to feed milk to baby.
In the upcoming episode, viewers are going to witness Sona will take the baby from Om and Kusum's hands. Sona says she will give milk to the baby. Kusum tells Sona that Maitree has already fed the baby.
Sona stares at Maitree.
In the hospital Vasundhara tells Ashish that she has Saransh's postpartum report and gives it to him, and says, now he can know about his brother's reality. Ashish reads the report and gets stunned.
Will Sona forgive Maitree?
How Ashish will react after learning Saransh's truth?
All these questions will be answered in the upcoming episodes.
To know what will happen next in your favorite show, keep checking this space for new and exclusive updates.