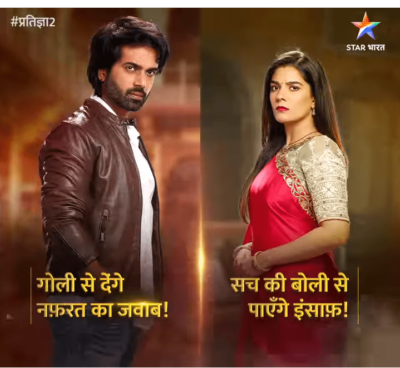 Mann Ki Awaaz Pratigya 2 10th May 2021 Written Update on SerialGossip.in
The episode starts with Krishna comes to Pratigya's room and says that he can't see her like this and takes her things and asks her to come with him. Pratigya goes to him and asks how can he enter her room without permission. Krishna gets shocked and says sometimes her words hurts him the most and says that he is her husband and why he need permission to come to her room. Pratigya says that she wants to stay alone and maintain some distance from everyone including Krishna that's why she chooses to stay in a separate room and asks Krishna that just because he defends her infront of anyone doesn't mean she will decide to go with him.
Then Pratigya says to Krishna whatever he did outside like standing up for her and showing how much trust he has for her infront of everyone putting his make ego aside is only because he has his own selfish reasons behind that so asks him not to convince or manipulate her with that and turns around. Komal says that this is the first time Adarsh shouts at her like that and it's all because of the vamp Pratigya and says that she has to do something otherwise she will lose Adarsh. Komal then sees Sumitra and says to her that she wants to marry Adarsh and asks her to talk to this about Sajjan because she can only able to convince him.
Sumitra scolds Komal and says why she is going to a sin. Komal says that she is talking about starting her new life and she is saying it's a sin and says if she don't support her then she will directly go and tells to Krishna that Sumitra is giving poison to his wife Pratigya who is his everything. Komal says to Sumitra that she don't care what Sumitra thinks this, think this is her threat or demand but she wants to marry Adarsh. Sumitra smiles at Komal and says why she is getting this much angry and says that she will talk to Sajjan about her and Adarsh's marriage. Komal gets happy and asks Sumitra to do it as soon as possible. Sumitra smiles and leaves the place.
Krishna in the room asks Pratigya why she is taking like this and says that he know Very well how much others words must have hurted her and he is sure she might have not even had food that's why he came here. Pratigya says to Krishna when she done nothing wrong why she needs to be upset over that and says just because he is acting like a dog and holding her Saree's pallu and asks her to be with him doesn't mean she will also go back to him. Krishna shouts enough Pratigya and raises his hand.
Pratigya looks at Krishna with teary eyes and says to Krishna not to shout at her like that and if he don't want to hear her words the leave the room and faces the other side of the room. Krishna looks at Pratigya and walks backwards and leaves the room sadly. Pratigya cries and goes and shuts the door close. Song plays in the Background. Adarsh sees Krishna coming out of Pratigya's room and hide behind the wall. Pratigya cries and says that she even dont want to do this to him but this is her only option she has to make him feel less pain when she leaves him. Someone knocks the door. Pratigya thinks Krishna and says how many times she needs to ask him not to disturb her again she hears the knock sound and opens the door to find Adarsh there.
Adarsh asks Pratigya why she is hurting Krishna and herself this much and says that he saw his she close the door on Krishna's face. Adarsh says that Krishna has full rights to know about her illness but she is hiding it from him and says how can she can be like this. Adarsh asks Pratigya to tell this to Krishna otherwise he will go and tell him. Pratigya pleads Adarsh to not to say anything to Krishna and says that she needs his help and asks him to come inside the room. Sumitra sees Pratigya and says that Krishna needed this kind of treatment from her most. Krishna comes to his room and shouts then sits nearby his bed.
Sumitra come to the dining room and sees Meera and starts her acting saying that Krishna supported Pratigya but Pratigya is insulting him a lot and Krishna is sad and she can't see his son like that. Meera says to Sumitra that Pratigya is a nice person. Sumitra asks Meera to console Krishna. Meera says that Krishna don't want to meet her in this situation. Sumitra starts crying. Meera agrees to go to Krishna and then leaves. Sumitra smiles and says now it's easy to bring Krishma and Meera closer.
Pratigya says to Adarsh that he only saw Krishna's concern and love for her but she has seen Krishna's mad love for her and if he get to know about her illness he will kill himself first and she dont want that to happen. Pratigya says to Adarsh that she was so happy the way Krishna defends her infront of everyone but she wants to do it for Krishna and the Kid's future. Adarsh says that he don't understand but is she sure that Meera is the right one for him? Pratigya says yes the way Meera takes care of Krishna and the Kid's and she is also Innocent like Krishna and happy soul like Krishna so they are meant to be together. Adarsh says that Krishna will never fall in live with Meera. Pratigya says that she knows that Very well that's why she wanted Adarsh's to help her. Pratigya explains her plan.
Adarsh says no that he can't do this to Krishna. Pratigya pleads and asks don't he want to help her fulfill her last wish. Adarah gives in but says if she wants him to agree to this plan then she needs to consult a better doctor. Pratigya says there is no use in that, waste of money and time. Adarsh says that he will bring her to the doctor and says he will agrees to the plan only if she meets the doctor. Pratigya says okay she will meet the doctor.
Precap: Krishna and Meera sits nearby a lake. Krishna says to Meera that Pratigya can't see him going to sleep without having food. Meera smiles. Pratigya puts food in a plate and gives it to Meera. Meera goes to Krishna and says that Pratigya asked him to either eat this food or ask him sleep with an empty stomach. Krishna gets angry and goes to Pratigya. Pratigya feeds Adarah food and touch his arms. Krishna shouts enough. Pratigya looks at Krishna. Sumitra smiles.
Click to read: