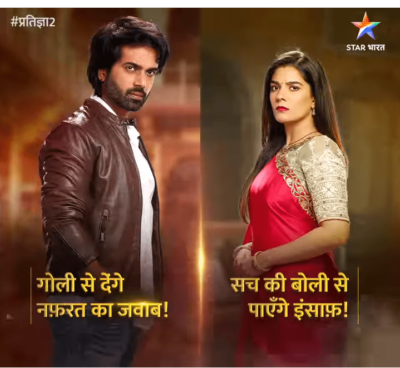 Mann Ki Awaaz Pratigya 2 15th April 2021 Written Update on SerialGossip.in
The episode starts with Pratigya asks is this the time to bath. Krishna says that he want to bath and Pratigya is the one who bath him and asks her to come and sit with him. Krishna says why she is upset even he is upset with the way he is behaving with her and tells that he loves her so much and asks her to forgive him. Sajjan opens the report and calls Komal and give it to her. In the bathroom Pratigya tells that she understands he realised his mistake but he shouldn't have done this. Krishna asks Pratigya she isn't forgiven him yet and tells her it's all because of lack of times. He tells her he is asking her time but she failed to give him that so that's why he asked her to leave her job. He says if she concentrate only on her work what will happen to their love. Pratigya asks Krishna what are you talking about, nothing will happen like that and she has so much work left so she needs to go. When Pratigya about to leave Krishna recalls Sajjan's word in which he tells him he will call Krishna once he comes outside the room. Krishna drags Pratigya and opens the shower. Pratigya asks what is this. They both shares a romantic moment in the shower. In the background song plays. Krishna and Pratigya hugs eachother.
Komal and Sajjan burns the report. In night Pratigya wakes up seeing her water bottle is empty she goes to bring water. When she comes to the hall she saw someone's shadow and wonders who is that, everyone is sleeping. Then Pratigya goes and check the room to find there is no report in that letter. And she thinks it must be Balwant's men. In Balwant's house his man tells that he failed to take the report, he is afraid Pratigya may caught him. Pratigya says that she knows Balwant will try to take this report so she changed the real report. Then she thinks before Balwant try to take this from her again she decides to give it to district magistrate. She decides to look at the report and finds the finger tips belongs to 7 to 8 year old kids. She wonders how come a kid kill Balwant's son there is no law to punish kids but who will make Balwant understand. She thinks how she is going to handle this
Krishna comes and tells Sajjan that in the morning he went to give the blackmailer three crores. Shakti and Samar hear this then Shakti asks Samar that he hadn't done any mistake that he put the money in a safe place. Samar tells Shakti that he put the money in their cupboard and tells he is not that stupid. Shakti laughs and tells great. Krishna's mother tells him that she made his favourite halwa. Krishna asks where is Pratigya. His mother teases asking why he can't eat without her and why are you asking me, she further teases and says she is your love.
Servant says Krishna that Pratigya goes to temple. Krishna wonders temple. In the road when a car about to hit Pratigya, Adarsh saves her and asks why she is being careless. Pratigya says she is just thinking about something. Then she asks Adarsh where is he going, Adarsh says that he is going to district magistrate office to join. Pratigya asks Adarsh why he didn't told her he also studies law. Adarsh says it's nothing like that and tells her now he is going to work under her and he is so proud to get this opportunity. Adarsh tells Pratigya we will find Balwant's son's murderer. Pratigya says Adarsh it's a accident not a murder.
Adarsh asks what, how you say this I mean how come you say this so sure. Pratigya tells everything to Adarsh and asks him how come a 7 to 9 year old will drive a car their legs are too small to reach the brake. So it's not a murder it's an accident. Adarsh asks but who tried to destroy the proof, a kid can't do it. Pratigya says it must be the kids family, they must be afraid of Balwant. She says they aren't aware the law will not punish below 10year old kids. Adarsh says you are right. Pallavi tells that she has to hide this from her family which she never done before. She further says they need to find the kid because their parent may get caught by trying to destroy proofs.
Pratigya enters the temple, Adarsh also enters. She prays god to give her strength to handle this situation and asks god to help her finding the kid. Pratigya tells Adarsh they have to take village kids finger tips. Shakti and Samar enters the room, Shakti says they didn't get any opportunity to count the money. Samar says it's not money it's power now they are going to show the power to everyone.
Shakti hurries Samar, Samar takes the bag and realises the weight is too low so tells Shakti when he get a bag it's too weight. They both open the bag and find nothing. Shakti runs to the cupboard to check asking where is money. Samar says all the money is inside now don't where it's gone. Now we can't even able to ask anyone. Shakti scolds Samar saying that he can't do one job properly anyway his studies are disaster. Samar gets angry and tells Shakti, it's his plan even he is the one who talked to Krishna so there is no need to get so worked up.
Shakti asks Samar you are fighting with me? and drags him. Outside Sajjan and Kesar see this and recalls that Kesar overhearing. Sajjan tells Kesar this is this house situation. When one person's life is in danger these two are making their own plans not even caring about their family members. Then Sajjan wishes his son Shakti is also like his daughter-in-law Kesar who is honest. Then he blesses Kesar and tells because of daughter in laws only the family is safe, if she didn't told him about Shakti and Samar he may never get to know about this. Let the house situation become normal I'll show them what I can do. Kesar requests not to ask anything to Shakti otherwise he will ruin her life. She says she is ashamed that now Shakti is teaching his wrong doings to Samar.
Adarsh and Pratigya comes to the house and see the kids are playing. Pratigya tells this is the right time to find who the kid is. Adarsh calls the kids and tells that today is his birthday and he wants to enjoy the day with the kids. Kirti laughs and asks that don't he have any friends? Adarsh tells he has but he gets bored celebrating this with his friends every year. Pratigya tells the kids, in the garden area you all do the hand painting. And asks the kids to wish Adarsh, everyone wishes Adarsh including Komal. Then Pratigya says to Kirti and Garv that it's their responsibility to show the kids the garden area also she asks them to bring Girish and Samar. They nods and leaves the place. Pratigya thinks today she will get to know who the kid is behind this chaos.
Precap- Krishna finds the real report and asks Kirti to explain what is written in that. Kirti tells it states that finger print belongs to 7 to 9 year old kid. Later Krishna saw the garden and asks Kirti what's happening. Kirti tells him that they are doing hand painting. Krishna understands Pratigya is trying to find who the kid is behind Balwant son's murder.
Click to read: