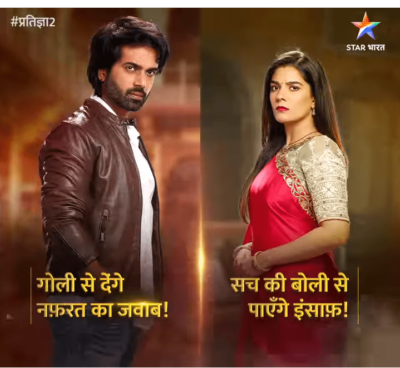 Mann Ki Awaaz Pratigya 2 16th April 2021 Written Update on SerialGossip.in
The episode starts with Krishna enters the room and look for the cupboard key's. He tells himself where it is, that he want constructions blue print. Pratigya and Adarsh asks the kid one by one to put their hand on the board and asks their name. Finally Krishna finds the key from Pratigya's bag and wonders why she kept it in her bag. When Krishna takes the blueprint from the cupboard he finds the actual report and realises Pratigya changed it.
Krishna tried to understand it but he couldn't. Kirti enters the room Krishna asks her to explain this report Kirti tells that report states the fingerprints belongs to 7 to 9 year old kid. And this kid don't have any criminal record before. Kirti asks this isn't Garv's right to her father Krishna. Krishna asks what they are doing with the paint, Kirti tells him that they are doing hand painting activity. Krishna looks the kids throw the window and recalls Pratigya's words to punish the person who is involved in this.
Pratigya asks Adarsh that he collected all the handprints and names of the kids. He tells yes then he asks the kids to go and eat the icecream. Pratigya asks what about Garv, Adarsh says no he didn't get Garv's fingerprint. Pratigya asks Kirti where is Garv, Kirti recalls Sajjan's word and keeps her mouth shut. Pratigya goes to find Garv. In the room Komal asks Sajjan Where her mother went without informing to anyone. Sajjan tells her sister is I'll so she went to meet her.
Kesar comes there and tells Shakti told her that he dropped his mother safely. Kirti comes there and tells her grandfather that Pratigya is searching for Garv but before that Pratigya enters the room and asks everyone where is Garv. Later she tells that she know Garv must have told everyone not to tell Pratigya where he is. Then she goes into search for Garv and find the envelope of the report on the floor and wonders how it is possible. She again comes to the hall and asks Everyone where is both Krishna and Garv. Krishna brings Garv in front of everyone.
Pratigya asks Garv where he went and ask him to do the hand painting. Krishna will not leave Garv's hand Pratigya asks him why he is doing this. And tells him that she knows Balwant men will try to take the report so she changed it. Sajjan and Komal looks shocked. Krishna tells Pratigya that if she don't want to leave her job okay at the same time he don't want Garv to do any activities. Pratigya says that she is doing all this to find the kid to save. Because if Balwant's get to know he will not leave the kid. She further says even in law there is no punishment for 7 to 9 year old kids, and she knows it's an accident. Pratigya again ask Krishna to leave Garv's hand, Komal interrupts telling whatever Krishna is doing is for Garv's safety. Pratigya looks confused.
Sajjan asks Pratigya why she is not trusting her family and telling them anything at all. Pratigya explains nothing like that, she just don't want to involve her family members. Also tells them the kids family is doing wrong things by trying to save the kid like how they burnt the car and asked Radhe to surrender. Sajjan tells he will not let anything happen to his grandson even if his own mother is against him. Pratigya asks why she is going to be against Garv. Then she asks Garv to do the hand painting. When Pratigya and Garv reach the steps Sajjan calls her. Pratigya turns around to see Sajjan holding gun and pointing at her. Pratigya looks confused.
Precap: Shakti tells Pratigya, Garv is the kid who is behind Balwant's son's murder. Pratigya asks everyone how come they hide this from her and tells that she is going to tell this to Police.
Click to read: