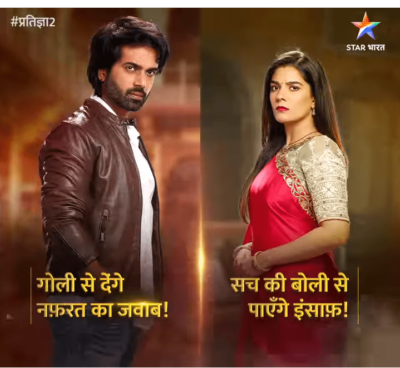 Mann Ki Awaaz Pratigya 2 19th March 2021 Written Update on SerialGossip.in
The episode starts with Pratigya asks Sajjan what he is doing and why he is pointing the gun at her. Krishna looks helpless. Shakti arrives there and says Pratigya is she not understanding and asks Krishna did he tell Pratigya? Shakti then says Pratigya that Garv is the one who did this then he pulls Garv's cheeks and says this little innocent kid is the one who behind what happened to Balwant's son. Pratigya looks shocked and looks at everyone. Shakti asks Understood? then leaves. Everyone looks shocked. Samar and Girish smirks and nods. Pratigya looks at both Krishna and Garv then remembers all the incident how Garv looks scared the other day and tells that he will sleep with Krishna only and then when Pratigya saw Krishna coming inside the house lately when she asks he tells her not to question him then when Kirti is late for school because of Krishna, Krishna tells Pratigya why she didn't drop Kirti if she is getting late for school. She also recalls how Krishna ask her to choose between her family or job. Pratigya looks at Krishna who doesn't meet her eyes and looks somewhere else. Pratigya goes to Krishna. Shakti sits on the chair and smiles. Pratigya asks Krishna why did he hide this from her? Then ask him to tell her this is a false information. Krishna keeps his mouth shut. Then Krishna looks at Sajjan, Pratigya follows his gaze and looks at Sajjan who looks somewhere else then she looks at her other family member's they all also will not meet her eyes. Pratigya says Everyone knows except me. Pratigya goes to Garv and questions everyone how could they hide this from her, she is Garv's mother and she has to know about what happened to her kid first. Pratigya asks Kirti who looks at the floor. Pratigya sits on the floor then breakdown holding Garv's hand. Kirti runs to Pratigya then wipes her tears. Pratigya recalls all the suspicious moments Krishna had and asks Krishna so that's why you did this all? Pratigya again asks Krishna, Krishna tells yes and he don't want family's name to get involved also he don't want anyone to know about Garv. Komal says to Pratigya that there is no need to get angry if she is a mother of Garv then Garv also has his father, grandfather and everyone who will not only protect him from police but also from Pratigya. Then Komal tells Pratigya that family members aren't afraid of law and police but of Pratigya because when it comes to law and rules Pratigya will not care about who is the person is. She tells that she respects Pratigya a lot but when it comes to law and rules Pratigya will nor care about her family and that's the reason there so many arguments and fights happening in this family. Komal says Pratigya yesterday Krishna distracted Pratigya so that they can destroy the report and save Garv but what you did, you hide the real report. Pratigya looks at Krishna and cries remembering how he asked her to talk to him. Krishna asks Komal to not to say anything that he is talking to Pratigya. Komal tells Krishna that Pratigya get to know about all the plans then why we need to hide it anymore. Komal further tells everyone in this house there will be no right and wrong, whatever we do to save Garv is right and other things are wrong.
Pratigya asks Krishna why he didn't tell her? Why he is punishing her? What was the mistake she done that he decides not to tell her the truth? Shakti looks at them then smiles. Pratigya asks Krishna she don't have the rights to know about the truth? Isn't she Garv's mother? Sajjan says if Pratigya is Garv's mother then why Garv didn't comes to her first, then asks her to question this to herself. Why Garv decided to tell his father not to his mother why? Pratigya looks at Garv, Garv looks at the floor. Sajjan further says Kids always tell the truth to their mother first not to their father. Look at Garv he is afraid of you Pratigya. He says even Garv is more understanding one that's why he told his father first and whatever Krishna did till now is right. Then Sajjan asks Pratigya to leave the case telling it is good for everyone and says let them handle this in their way. Sajjan says it's not a request nor giving her option to choose it's his order. Pratigya says Sajjan that till now he supported her but now without any mistakes done by her he decides to punish her, within a second he left her side just like that. She tells everyone left me.
Pratigya says to everyone that they all may have reason to leave her alone but she don't have any and hereafter she will not let anyone to do any wrong things. Pratigya says Garv is only 7 years old kid and whatever happened is an an accident not a murder but you all turn this as murder. Garv think himself as murderer but he is innocent. The Pratigya says if they all told her this before she would have proved Garv is innocent in the court even there is no punishment for kids in the law. Now also she can able to prove Garv is innocent. Kesar tells Pratigya that they may not know about law like her but whayever they did is just to protect Garv not to hurt her.
Pratigya asks to save him? then she questions everyone do they understand what they have done? Whatever happened with Garv is happened but they all destroyed the proofs which is not at all right. Sajjan asks Pratigya to not to teach them lessons about law, they have already seen a lot. Sajjan tells it's about Balwant who is planning to take revenge from the person who killed his son. If Balwant get to know about Garv he will not stay silent. Krishna recalls how Balwant killed Radhe. Sajjan says that he can't let anyone harm grandson that's it. Pratigya asks Sajjan that what he thinks, hiding this will give a solution to this situation. Pratigya tells how long they are going to hide this, at some point Balwant will get to know about this. Krishna asks Pratigya how Balwant will know about this? If we tell him then only Balwant will know about this. Krishna says everyone is saying, they all are already thinked about this so let them do their job and ask Pratigya to leave this case. Pratigya says to Krishna no one thinked about this properly and tells that they can't give this kind of upbringing to our kid. Sajjan says okay give your kids good upbringing but leave this to him. Komal tells Pratigya whatever Sajjan learnt from his experience, her law will not even teach that so whatever Sajjan asks her to do, do that without questioning and there is no need to do anything.
Pratigya tells this is her family and she will decide what to educate her kids. If going in a right path will not harm anyone then I don't understand there is any need to change the way. Pratigya says Garv is my son and whatever I'll do I'll do it in a right way. She goes to Garv and tells him that they are going to the police station and tell them truth. Everone looks at Pratigya. Pratigya asks Garv to trust his mother. Pratigya and Garv about to leave the house Sajjan calls her, once again hold her at gun point saying that he will not let anything happen to his grandson. Pratigya looks at everyone then turns around Komal goes and shut the house door. Komal warns Pratigya not to think about going outside.
Precap – Police will arrest Krishna. Komal will slap Pratigya. Police will tie Krishna's hand in the prison. Balwant will come to jail.
Click to read: