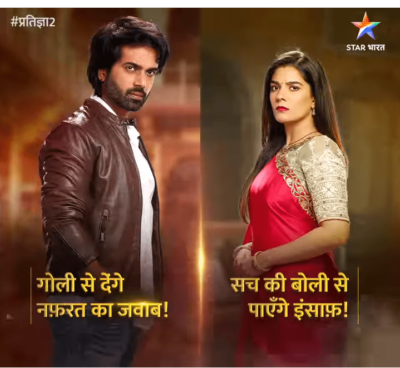 Mann Ki Awaaz Pratigya 2 24th March 2021 Written Update on SerialGossip.in
Episode begins with Balwant getting angry to see the only evidence for his son murder case is getting burned in front of his eyes. On the other hand, the assistant of Balwant gets panicked after seeing the fire as he remembers how his own elder brother burned his face in a burning earthen pot. He starts to beat the on duty officer who came to them with the car and he is trying to save himself but no help while Krishna watches everything and tried to stop but unfortunately he is not in a position to help the constable at this point because if he comes out then people will get to know about his presence at the place.
The next morning everyone in the house is preparing for Holi celebration and Sajjan is asking everyone to do the preparations in a perfect way so that it looks grand. Krishna prepares Garv who is still upset and is sitting inside his room. Kriti is all decked up in a beautiful white frock to celebrate the festival. Krishna prepares Garv and gives him a pair of glasses which makes him happy and he starts to enjoy the day like his old self and Krishna as a father gets happy to see his kid is being all happy and laughing around.
Pratigya lashes out at the police constables for being so careless about the only evidence in this high profile murder case. She says how come the car got burned instead of it taken into custody. She says how come you people are so careless? Someone just has lost their son and the only evidence we had at this point of time is the car then how it happened and why?
She says if the media got to know about this incident then they will make another spicy news about it hence everything will be ruined again. Pratigya comes back home while Mrs. Singh is trying to make Krishna believe that he doesn't do any wrong by slapping his wife and he should have command and control over her.
Mrs Balwant Singh got to know from her house help that the prime evidence in the case of the murder is got burnt down. Now there is no evidence left to prove anything in the case and she gets extremely angry to hear this. She immediately goes to Balwant Singh and questions him about his credibility. She says that you lost all the power and capability of doing anything because you are not even able to do anything even after your child's death. Then I should conclude that this Mafia has become a joker in the market because the culprit is doing everything in front of his face and he is still not able to do anything all the time.
Pratigya comes home and shares everything with Krishna and says that I will not back off until I am stressing out that person who is behind the everything. She says that person must have left some clues behind while wiping off the evidence and I am waiting for one that clue. Krishna again gets worried about what kind of evidence she can get which can let them reach out to Garv.
Precap – Balwant comes to meet Pratigya at her house and meets Sajjan Singh.