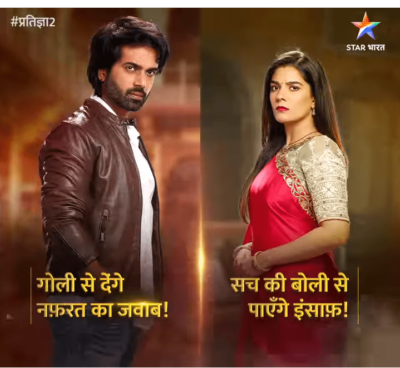 Mann Ki Awaaz Pratigya 2 25th March 2021 Written Update on On SerialGossip.in
Episode begins with all playing holi in Sajjan Singh house and enjoying themselves in the festival. All are pouring colors on each other and enjoying to the fullest including Pratigya. Samar and his brother are about to put colors on Komal but Shakti stops them and says your aunt is a widow and is not correct to put colors on her. Pratigya comes forward for the sake of Komal and says that what is wrong in playing colours being a widow? Just because she has lost her husband we cannot punish her for her life to be away from every single happiness. Kamal says that I don't want to play colours because I feel happy just by seeing Garv.
apart from this there is only one colour that is remaining for me in this life and that's white. Pratigya feels bad for Komal but she goes away from there. On the other hand Balwant Singh comes to the haveli of Sajjan Singh when everyone in the house are busy playing Holi. Balwant meets Sajjan at first after entering their house and Sajjan welcomes him with full warmness and hospitality. On the other hand, Pratigya is busy playing holi with her son and daughter. Kriti is running behind her mother to throw colours on her while Garv comes this side and gets shocked to see Balwant is in his house.
He gets terrified seeing him while Balwant is talking to Sajjan and is saying to him that I am the Mafia of this area. Sujan says to him that I used to be the don as well and many people with my support and love have made a palace of their own dreams in the city. Rest I welcome you in this city of Prayagraj from my side and also I show you that whoever killed your son will surely get nabbed soon because it's has to be done. he says I know my daughter-in-law Pratigya really well and she will not sit quiet until and unless she will be able to get hold of the killer.
Balwant looks at a playing and giggling Pratigya And says that I can see who is doing what for the sake of my dead son. He says to Sajjan that I have lost my son, my only son hence I can not behave in a proper way or respond to your hospitality with same tempo. he goes towards Pratigya but unfortunately Pratigya who is playing with her daughter throws colour on her but it falls on Balwant too. She says to him sorry for whatever happened because he understood that he is offended for sure.
Balwant says to her that obviously your child is alive and is playing Holi so you are busy in this but my son is dead and there is no one my house to play Holi. He said that I thought you are smart and intelligent, maybe I was wrong. However if you got time from your enjoyment and festivals then please pay attention to the case as well and try to get justice for my son as soon as possible. I will be waiting for your answer and then he cuts his hand and puts the color of blood on her face in front of Sajjan and Shakti.
Once he left Sajjan told Pratigya that he is one complex person and whatever and how much you do for this person, he will never be grateful to you for that. He says it is easy to keep a snake rather than tackle a scorpion. It is in their nature to backbite whenever they get a chance. He asked Pratigya to be conscious and cautious always and says if Krishna was your today then he will not let Balwant go this easily. Pratigya takes promise from Sajjan that he will not speak anything about this incident to Krishna. suggest that you should have be happy and enjoy your holi forgetting about your work at this moment.
Krishna comes back home and finds out that his son is sitting behind a tree and is terrified. Krishna asks him to calm down and be normal. Garv told him that Balwant Tyagi paid a visit to their house just some minutes ago. Krishna is shocked to know this but then he gets involved in the functions of Holi and also introduces a new person named Aadarsh with his parents. Komal is triggered to hear the name Adarsh and she tries to recall her moments with her husband. She feels sad while Adarsh is upset to see Komal like this.
Precap – Krishna makes Pratigya drunk and she said that she had already collected all the finger prints and evidences required frok the car before anything else.