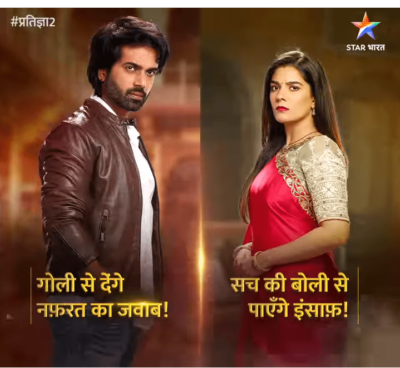 Mann Ki Awaaz Pratigya 2 26th March 2021 Written Update on On SerialGossip.in
Episode begins with Krishna trying to know from Garv about what happened in the holi party? However, he manages the situation for girls and says since it is a festival time then anyone can come and go in their house as all of them are just guests. He tries to make his child understand that there is nothing to get scared of as it is completely normal and fine. He somehow manages Garv and ask him to go back and play with others but then he gets worried once again and decides that he has to know from Pratigya by hook or crook about the evidence.

He goes to the person who is making drinks for Holi special and ask him to make a glass with full dry fruits and everything and then he mixes some herbs in it by himself and looks for Pratigya so that he can make her drink this. he is looking for heart when Kriti comes and takes the glass from his hand and runs away. he somehow takes back the glass from her and gives her the class and safe that this is not for kids this is for adults and you have your special drink here. When Krishna is talking to his daughter Pratigya sprinkle colour on him from behind and runs away from there and Krishna also follows her. They run from here and there and finally Krishna gets older Pratigya but all are watching them and Pratigya is feeling shy and awkward. However,Krishna does not let Pratigya go and finally she drinks the full glass and then all of them go to enjoy the party and dance together.
Later in the night Krishna and Pratigya sometimes in private Krishna tries to know from her about the court case. After crying a lot and making some efforts finally Krishna got to know that Pratigya has already collected all the possible fingerprints from the car even before taking it in custody and now those samples are in laboratory for forensic test and soon she will have the reports in hand which can gives a clear picture who can be present inside the car at the time of accident.
Krishna tries to make Pratigya agree to quit the case but she is not ready to do so and says that I will never be able to do it because I am a lawyer. For a lawyer, those cases become so important which are a bit twisted and not easy to resolve and if I can give the party justice in such cases then there can be nothing more happier than this.
Krishna understood that he has to do something very quick or else Pratigya will not take much time to reach out to Garv. Finally, he goes and meet a person and ask him to take the blame of this accident on his head on behalf of his son because he just got into this mess and is too minor for any kind of thing. He assures the person that I will definitely get you out on bail and will also take care of your family behind your back. That person agrees to Krishna and says you don't need to say anything more. I am ready to do everything for you.
Precap – Balwant takes up Garv from school. Pratigya doesn't find Garv in the school while Krishna gets angry to hear this.
Click to read