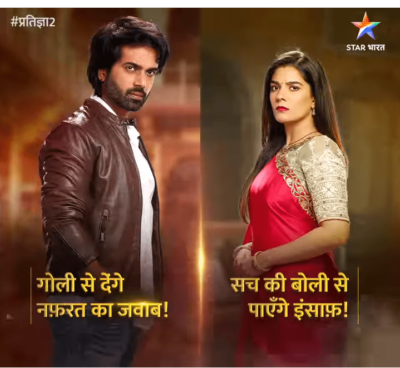 Mann Ki Awaaz Pratigya 2 29th March 2021 Written Update on SerialGossip.in
Episode begins with Pratigya coming out of her room holding her head. All the other people are sitting in the hall area of the house. Sajjan is sitting with sunglasses on his eyes and Kriti is playing with her grandfather and grandmother. Pratigya comes out and says that my head is getting heavy because I think Krishna has spiked my drink during holi. She asks for some medicines from Sajjan and he asks Kriti to bring the box of medicine from the cupboard.
Pratigya asks Sachin, why are you wearing sunglasses at this hour of the day inside the house? He says that while playing Holi there is some color going inside my eyes and that is why I am wearing this as of now. Pratigya says to him that you should have taken care of yourself much more at least in this age because you sometimes behave like a kid with the kids of the house. Sajjan gives Pratigya medicine for headache and says that it will show its effect soon.
They are talking about each other and Sachin is sharing stories about his young days with his wife and how they used to play and celebrate Holi with each other with all this drinking and getting toxicated due to that. Everyone is enjoying the stories including Kriti and she is getting excited to know more about her grandfather and grandmother and Pratigya is looking at all of them with happiness.
She says that festivals do bring joy and happiness for everybody but it also brings a certain amount of disappointment and disheartenment in life. She says that all of us are enjoying today but I feel so bad for Komal. At such a small age she has to go through a lot of things which she doesn't deserve. Maybe she felt this emptiness in her life today the most and I feel so bad to see her in such a state.
Sajjan says to Pratigya that what can I do for this state of my daughter if her destiny is like this. She is my only daughter. I only want happiness for her but what can I do in front of the decisions of fate? Pratigya understands that no one in the house is thinking about remarrying Komal. On the other hand, Komal is getting flashes of Aadarsh and she thinks why I am thinking about that one particular face for no reason and she comes in front of the picture of her husband and starts chanting Hanuman chalisa.
Radhe comes to police station to surrender for the crime of Balwant Singh's son murder case. However the police inspector didn't take him in custody and took him outside of the police station and said " come with us and we will take you to the place where you should be". Balwant comes to meet Garv in his school when he is waiting for his mother to come and pick him up.
Balwant tries to know from him why he gets scared whenever he sees him but Pratigya comes and takes time and takes Garv from there. Later, Balwant comes to know about the murder surrender case and he got to understand that someone else has sent this man to surrender for the crime which he didn't do. Krishna gets angry to know about the school fiasco between Balwant and Garv.
Precap – Krishna gets to know that Raghav is dead. Pratigya gets a proof against Garv and gets scared.
Click to read: