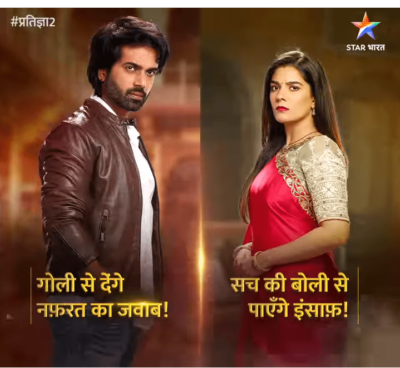 Mann Ki Awaaz Pratigya 2 Upcoming Story, Spoilers, Latest Gossip, News, Twist On SerialGossip.in
In viewers favourite show Pratigya 2, we had seen how everyone goes against Pratigya when they understand Pratigya doing all this to find the person behind Balwant's son's murder. Will Pratigya understand the reason behind her family members?
In the current episode it shown that Krishna looks for the cupboard key's. Pratigya and Adarsh asks the kid one by one to put their hand on the board and asks their name. Krishna finds the key from Pratigya's bag and wonders why she kept it in her bag. While Krishna taking the blueprint from the cupboard he finds the actual report and get to know about Pratigya's plan. Kirti enters the room Krishna asks her to explain this report. Kirti explains and asks this isn't Garv's right? Krishna asks what they are doing with the paint, Kirti tells him that they are doing hand painting activity. Krishna looks the kids throw the window and recalls Pratigya's words to punish the person who is involved in this and understands this is also Pratigya's plan.
Pratigya asks Adarsh that he collected all the handprints and names of the kids. He tells yes. Pratigya asks Kirti where is Garv, Kirti recalls Sajjan's word and keeps her mouth shut. Pratigya goes to find Garv.Kirti comes there and tells her grandfather that Pratigya is searching for Garv. Pratigya enters the room and asks everyone where is Garv. Later she tells that she know Garv must have told everyone not to tell Pratigya where he is. Pratigya finds the envelope of the report on the floor and wonders how it is possible. Krishna brings Garv in front of everyone.

Pratigya asks Garv where he went and ask him to do the hand painting. Krishna will not leave Garv's hand Pratigya asks him why he is holding Garv's hand. Krishna tells Pratigya that if she don't want to leave her job okay at the same time he don't want Garv to do any activities. Pratigya says that she is doing all this to find the kid to save. Because if Balwant's get to know he will not leave the kid. She further explains Everyone about the law. Komal interrupts Pratigya saying whatever Krishna is doing is for Garv's safety.
Sajjan asks Pratigya why she is not trusting her family and telling them anything at all. Pratigya explains nothing like that, she just don't want to involve her family members. Sajjan tells he will not let anything happen to his grandson even if his own mother is against him. Pratigya asks why she is going to be against Garv. Then she asks Garv to do the hand painting. Sajjan calls Pratigya when she turns around Sajjan holds the gun pointing at her. Pratigya looks confused.
In the upcoming episode it will be shown that Shakti will reveal the truth to Pratigya. Pratigya will say to her family members they hide it from her. Pratigya will say that she is going to tell the police.
How will Singh's stop Pratigya from telling the truth to the police? Will Pratigya succeed telling the truth to police?
To know latest updates about 'Pratigya 2' keep checking this space.