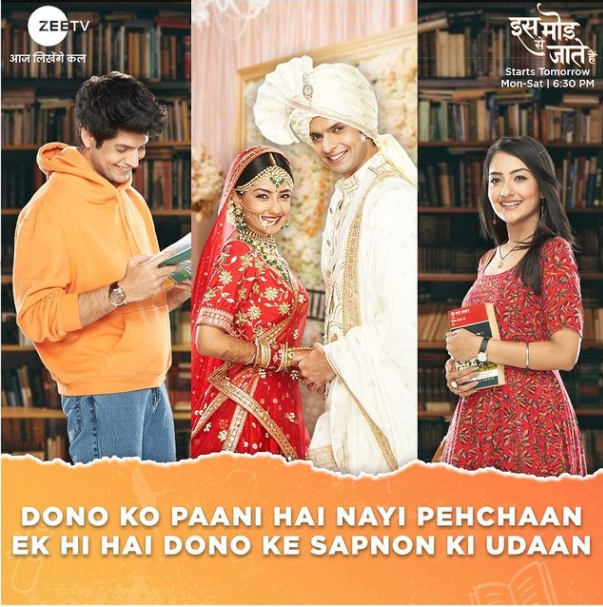 Meet 15th January 2022 Written Update on SerialGossip.in
The episode starts with Meet Ahlawat cleaning his Dad's car as Meet cleans her Dad's bike. Manushi takes pipe from him then she asks why he didn't reply to her? I just asked you what you're planning to gift Meet for Lohri. Meet Ahlawat warns her to not involve in his matter. Manishi asks him to not complicate their relationship. Meet Ahlawat says we don't have any relationship and better if you accept it. Manushi says we are related through Meet and it won't get changed and it's my mistake to tell whatever I said in the boat as I thought you still love me but now I realized you're changed so I want to strengthen your relationship with Meet and she leaves.
Babita and her family members panic when Tej goes missing. Meet Ahlawat says he will bring him. Babita asks him to lodge police complaint. Raj asks her to wait saying it's just 15m. Sunaina brings Tej home. Meet says glad Bhabhi he was with you as we were worried. Babita separates Tej's hand from Sunaina and questions how dare she. Sunaina says I filed my divorce with Ravi and now I will take care of Tej by staying here and did you see Tej's happiness as I took him to his favourite place. Babita throws papers and scolds Sunaina for crossing her limits. Sunaina begs her to make her stay near Tej. Babita asks her to stay in servant quarters. Raj asks why will she stay there. Sunaina agrees to stay in Servant quarters for Tej.
Meet asks Sunaina to stay in their room. Sunaina says she will stay in servant quarters according to Babita's order. Meet asks Babita to understand Sunaina condition as a woman. Babita says Sunaina is responsible for her condition so don't involve in this matter. Manushi thinks to use everyone in Ahlawat family to separate Meet and Meet Ahlawat. Later Ragini asks Meet to set the wool bundle and she leaves. Meet Ahlawat comes there and tells Meet that Sunaina did a mistake by leaving Ravi and it's better if she move on in her life. Meet tells Meet Ahlawat that Sunaina decision is right as her heart is with Tej. Meet Ahlawat helps Meet to set the wool bundle.
Masoom intentionally drops curd box on the floor then she asks Sunaina to clean it. Sunaina agrees. Meet says she will do it. Masoom leaves asking them to clean it. Meet about to clean it then Sunaina stops her saying it's fight of my life and I can do it. Meet says I'm proud of you and you can bear anything but don't let anyone insult your self respect and dint forget that I always support you. Sunaina hugs her. Manushi acts like cleaning house seeing Babita. Babita asks why she is doing it. Manushi tells Sunaina asked me to help her with cleaning. Babita says Sunaina wants to stay here as servant and she doesn't have the right to insult my guest and you're so special to me as you brought my son back home. Manushi says Sunaina may leave from here if she gets insulted in front of others and it really concerned. Babita says she didn't understand with love so it's better to use this insulting language. Meet takes her orders. He asks what's the need of her to work when her Sasural is rich. Meet says she is working for her Hooda family happiness then she goes for her delivery work.
Babita asks Tej to read the book then she warns servants to not let Tej have any Sweets as it may affect him because of his current medicine. Sunaina comes there and holds Tej. He smiles. Babita scolds Sunaina or touching Tej with her dirty hands. Sunaina cleans her hands and sits with Tej but Babita scolds her to behave like workers then Sunaina sits on the floor. Babita goes to get him juice. Tej writes something on papers then he goes to sit with Sunaina. Babita gets shocked seeing Tej wrote Sunaina name. Sunaina feels happy. Meet Ahlawat asks Ragini and Isha to help him with Meet's gift. Manushi tells she knows what Meet likes. Ragini and Isha leaves. Meet Ahlawat says he doesn't need her help. Manushi writes in chit what Meet likes and she asks him to read it if he doesn't get any idea. Meet Ahlawat leaves.
Meet Ahlawat indirectly asks Meet which gift she likes from her delivery. Meet says what she loves but it won't help him then he plans to take Anubha help. Meet asks what he did with Tej. Meet Ahlawat tells what they did and she sleeps on chair while listening to his talks. He makes her sleep on the bed. Meet Ahlwat takes the papers written by Manushi which is blank and he throws it thinking she is a cheater. Manushi comes there saying she changed it and she asks him to praise her beauty to get the paper. Meet Ahlawat warns her to stay in limits and talk slowly as someone might hear us. Manushi asks him to question his heart to know what he feels and she leaves after giving the paper. Meet Ahlwat recalls his love for Manushi then Meet and he thinks his heart is clean along with his thoughts.
Meet Ahlawat wakes up and notices Meet went to work keeping note for him. Meet asks Anubha why she returned money to her account and she gives money to her in cash. Anubha denies taking money from her. Meet asks Dadi to take it. Anubha signs Dadi to not take it then Amma ji leaves the money on the table and goes near mandir. Meet asks her Mom if she is angry with her and asks her to tell what mistake she did. Anubha says it's my mistake to accept money from you post marriage too. Meet says I'm this house daughter then what's wrong with it to help my family. Anubha says you belong to another home. Meet asks if anyone said anything. Meet says leave as my soul is not allowing me to accept it and we don't want to become a burden to you. Meet says they are not a burden to her.
Episode ends.
Click to read