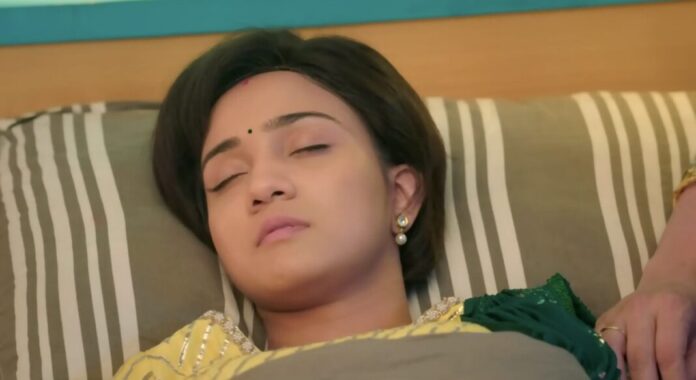 Meet 28th March 2022 Written Update on SerialGossip.in
The episode starts with Raj announcing his decision to his family members that Meet will not join the police. Babita gets shocked and asks Raj you are in favor of Meet becoming a police officer from day 1 what happened suddenly that you are taking this decision. Raj says he talked with Guruji and Guruji says for the next six months there is a threat of life for Meet.
Meet says to Raj uncle you know I want to become a police officer, not because of a silly reason but to bring justice to my dad. Raj says he knows but this time I don't want to lose you and emotionally asks Meet not to join the police. Raj also says he will get the best lawyer and will do justice for you. Meet signs as she agrees with Raj's decision. Meet thinks to herself she can't go against father in law nor can she make him sad.
Meet goes to Ashok Hudda's photo and asks him what to do and tells him to give some kind of sign and says this time even Meet Ahlawat did not stand by my side. Meet Ahlawat hears what she said. Meet says this time even you didn't stand by my side. Meet Ahlawat says try to understand this it's about your life and Ahlawat family has been listening to Guruji for many years but even if there is even a 1% chance to what Guruji said then he will not support her. He says it's risky. Meet says Risk was even there when I joined the police and you supported me then. Meet Ahlawat says but then your feet not been burnt but now after what happened I can't support you. Meet says you can support me after you understand me and says first try to understand me.
Tej asks Sunaina if Dad took the right decision in Meet's case. Sunaina says of course he took the right decision and says Raj thinks practically and asks Tej why can't he think practically. Tej asks is it about Ram and Lakhan if she is not happy with his decision, he says he will stay away from her and leaves the room taking his pillow.
Meet wakes up because of alarm and sees that Meet Ahlawat is not by her side. Meet thinks she has to convince Meet Ahlawat to be by her side and then try to convince Father in law. Meet sees that Meet Ahlawat is praying to God about her safety. Meet pours little oil from Diya's stand and when Meet Ahlawat sees Meet makes him believe like she falling down. Meet Ahlawat catches Meet and asks why are you outside and sees that oil is on the floor and calls the servant.
Meet says this time I was in danger and not because of police Training etc. Danger will be present anywhere when I go on a bike for delivery there may be an accident. Guruji said that there is a danger for me but did not say that it's because of me joining the police. Meet Ahlawat says sorry to Meet and says you're right there is danger anywhere it doesn't care if you're at home or the police academy. Meet asks now we have to convince Father in law.
Meet Ahlawat says Dad will never put aside Guruji's decision. It's not only difficult but impossible to convince dad how can we do it. Meet sees that Masum is walking by and Meet gets an idea and says to Meet Ahlawat that they are going to leave the house and it should be done now. Meet signs to Meet Ahlawat to cooperate with what she does and he does it. Masum goes to inform Dad about what she heard.
Meet thinks now Masum will go and tell Dad and will talk with Mummy ji and it will happen what we want. Masum goes to dad and tells him about what she saw. Raj says it's not possible and he completely trusts Meet. Masum says mistakes are made by humans and Meet is also human if you check once nothing will happen. Meet and Meet Ahlawat act as they are running away from the house and Raj sees it and stops them and asks Meet did you not think about me for one second. Babita also sees and asks what's with the bag. Masum says it's their bag.
episode ends
Click to read