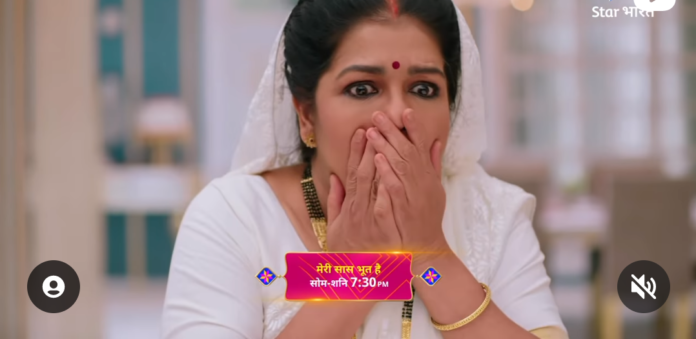 || Meri Saas Bhoot Hai Spoilers, Upcoming Story, Latest Gossip , Future Story, Latest News and Upcoming Twist on SerialGossip.in
Star Bharat's recently launched show Meri Saas Bhoot Hai is a horror comedy show which revolves around Gaura and her mother in law Rekha. As Som and Gaura are married and Rekha has already become a ghost post her sudden death it will be interesting to see the equation of a ghost mother in law and human daughter in law.
In the previous episode, Twinkle inquires as to why Som did not inform her of Rekha. Twinkle asserts that Rekha was, is, and always will be similar to her mother. She extends her hand to Som and assures him that she is always there for him.
Ganga and Kanchan remind her that Som is now married and advise her to maintain her distance from him lest Gaura become suspicious. Ganga tells Kanchan to keep eye on Twinkle. She requests that she give her jewellery. Rekha requests that Gaura conceal the jewellery prior to Ganga's arrival.
Twinkle assures Som that she will always be by his side and takes his hand. Chanchal observes the couple holding hands and intends to notify Gaura. Again, Gaura conceals the jewellery within the sofa fabric and sews it shut. She is unable to locate her nose pin.
Chanchal explains Twinkle and Som to Gaura. Gaura claims to have complete faith in Som. Chanchal would like to share a sofa with Gaura. When Gaura refers to Chanchal as her maid, Chanchal is insulted. Som holds Twinkle's hands and expresses gratitude.
Twinkle hugs him. Yamdut invites Rekha to join him in heaven. Rekha refuses. Yamdut departs. Laxmi and Radhe sneak into the storage area of Gaura's home. They intend to sell all of the available scraps. Ganga notices that she is missing her keys. The keys are discovered within the almirah.
Ganga examines the safe and discovers that her jewellery is missing. Kanchan misunderstands her. Rekha believes she will now cause a rift between Kanchan and Ganga. Ganga yells to alert everyone about the theft. Gaura gets tensed.
In the upcoming episode, Som contacts the police and files a report. Gaura informs Rekha that she is experiencing fear. Laxmi inquires about the jewellery to Gaura. Gaura gets clueless. Laxmi inquires further by citing Harish's oath.
To know what happens next stay tuned to Meri Saas Bhoot Hai on Star Bharat/Hotstar and this space.