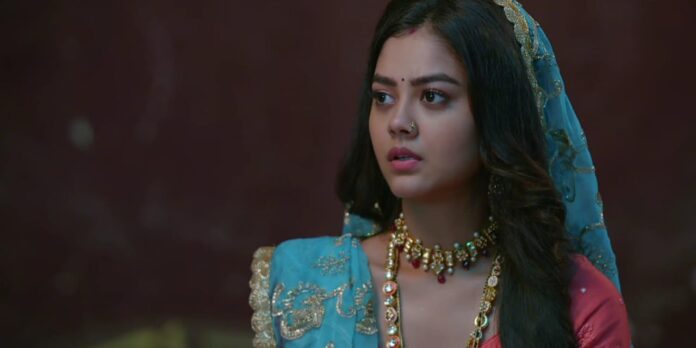 Episode begins with Sudha tells Purvi that it's hard to digest that Priyashi can stoop this low to get Veer. Purvi tells her that she need to show this recording to Virendra and decides to confront Priyashi first and goes to Priyashi's room and shows the recording to her and asks her that don't the latter feel ashamed of herself and tells her to reveal the truth to Virendra if the latter don't want her to show this recording to everyone then.
Priyashi tells her that she won't tell the truth to anyone. Purvi tells her that she will expose her and leaves the room. Priyashi thinks that Anjali would have recorded this and goes to confront her. Purvi learns that Virendra went to Panchayat office and she decides to meet him there.
Priyashi asks Anjali that how dare the latter to betray her and asks her about the mobile. Anjali realises that she don't have her mobile. Priyashi informs her that Purvi has the latter's mobile and now Purvi going to show that recording to Virendra. Anjali puts the blame on Prakashi saying that it's Prakashi who recorded that and tells her that they need to snatch the mobile from Purvi.
Purvi reaches the Panchayat office and learns that Virendra left for house. She sees Chaudhary with Aarav and wonders that why Aarav meeting Chaudhary and then she enters the house. Anjali notices her and tells Virendra that he need to bring 'chunri' from the temple and Priest informed her that it's an important ritual so he leaves from there. Purvi enters the room and shocks seeing Priyashi and Anjali there. Priyashi snatches the mobile from Purvi and breaks it and she tells Purvi that now no one will believe her without an evidence so this marriage will happen for sure.
Virendra comes there and asks Purvi that why she is crying. She tells him about the recording and he scolds her for accusing Priyashi. She tells him to ask Veer that why Veer marrying Priyashi. They goes to Veer's room. Virendra asks Veer that why the latter marrying Priyashi. Purvi asks Veer to tell the truth. Veer tells them that he really loves Priyashi that's why he is marrying her. Virendra asks Purvi to not try to do anything to stop this marriage and they leaves from there.
Priyashi overhears their conversation and thanks Veer for not telling the truth to anyone. He tells her that he really loves her that's why he is marrying her not just because of whatever happened between them. She hugs him and thinks that now no one can stop her. Purvi tells Aarav that she saw him with Chaudhary yesterday. Nanthini comes there and Purvi decides to not tell anything to her now. Aarav thinks that he needs to do something and leaves from there with Nanthini. Priyashi gets ready as bride. Sudha thinks that Priyashi don't deserve Veer. Purvi tells Sudha that no one listening her so she needs her help to stop this marriage and tells her something.
Episode ends.