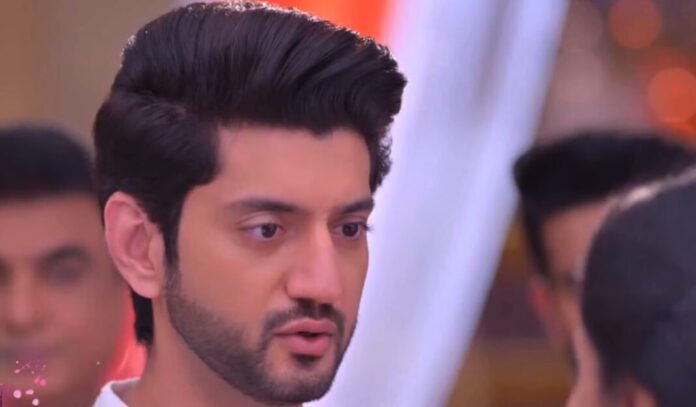 Muskuraane Ki Vajah Tum ho Spoilers, Upcoming Story, Latest Gossip , Future Story, Latest News and Upcoming Twist on SerialGossip.in
Colors Tv new show Muskuraane Ki Vajah Tum ho is attracting viewers with an interesting storyline.
As reported earlier, Yuvraj notices pillar is about to fall on Kabir. He throws Kabir then the pillar falls on Yuvraj. Kabir saves Yuvraj and both jump from the mandap before it's broken. Everyone surrounds Yuvraj.
Kabir asks Yuvraj if he is fine. Yuvraj tells him he is feeling pain. Kabir calls the doctor. He notices the chandelier is about to fall on Katha. He saves her on time. Glass piece hurts Katha's feet.
Kabir asks her to not worry and tells her to trust him. He removes the glass piece. Savitri calls off the marriage. Uma closes her eyes holding Naini maa idol to make her listen to the good news. Kabir goes to his mother. Savitri tells him about her decision. Kabir says everyone may think today is bad but it's good to me as we are uniting.
Yuvraj gets mad. He asks his friends to cover him from Katha. Savitri asks how can he marry as everything is ruined. Kabir says he will marry Katha today itself. He asks Pandit to start the wedding ritual. Kabir's uncle says they feel Katha is not correct to him.
Kabir says he respects his elders and his love. He tells he can't disrespect his love so this marriage will happen today itself. Katha smiles.
In the upcoming episode, viewers going to witness Kabir will get married to Katha. Yuvraj will sit helplessly.
Later Devraj will inform Kabir that Yuvraj and his friends are near the mandap before the terrible mishap. Kabir will tell Kishore that Yuvraj is missing from all functions and I think he is running away from me. He will decide to know the reason.
How Yuvraj will escape from Katha?
Can Yuvraj and Katha come across each other?
All these questions will be answered in the upcoming episodes.
Stay tuned to this space for more updates about Muskuraane Ki Vajah Tum ho.