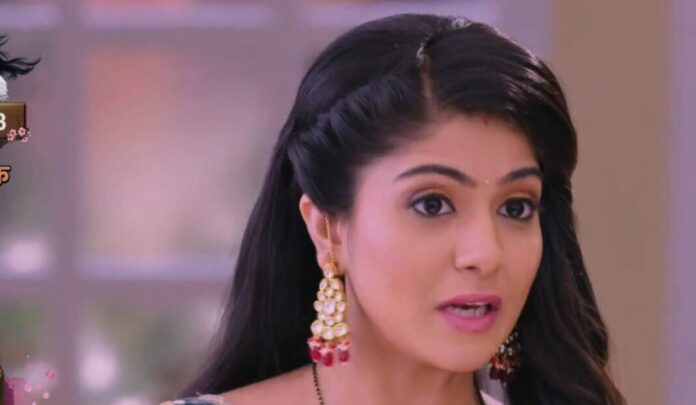 Muskuraane Ki Vajah Tum ho Spoilers, Upcoming Story, Latest Gossip , Future Story, Latest News and Upcoming Twist on SerialGossip.in
Colors Tv new show Muskuraane Ki Vajah Tum ho is attracting viewers with an interesting storyline.
As reported earlier, In the kitchen, Deepa teases Katha. Savitri stops her and tells Katha the importance of the Rasoi Ritual and asks her to prepare Makana Kheer as it's their tradition and favorite of everyone. Madhu says Makane Kheer and Bread Pakoda is the favorite of Yuvraj and he loves them.
Katha recalls their moment. Madhu says Makane is expensive so she may not know about it. Savitri asks her to prepare Suji ka halwa if she doesn't know Kheer.
Katha tells her she will prepare Makane ki Kheer. Savitri asks Manju and Neelam to help Katha showing things. Gunjan tells her sister that she won't trust Katha and goes to order sweets from outside.
Kabir makes Katha talk to her mother then He gifts her the apron he wore during his bakery's early days. He tells her it will get her good luck and makes her wear it. Yuvraj comes there and disturbs their moment.
Yuvraj says he came to drink water and doesn't see anything. Kabir says he came to wish her luck. Yuvraj says she is talented and doesn't need our best wishes. He says he is excited to eat it. Katha thinks why he is behaving in this way. Savitri calls Kabir. He leaves.
Yuvraj tells he will never inform his family about his wrongdoings. Katha says he can't scare her and don't forget that you're doing wrong and I will inform everyone about what you did.
Yuvraj says congratulations as you burnt the milk in your first rasoi ritual and they feel it's inauspicious, how you handled them. Katha gets shocked. Yuvraj says family members will spit at you if you inform them of the truth. He leaves. Everyone waits for Katha's dish. Katha cries in the kitchen.
In the upcoming episode, viewers going to witness Katha will come out with a covered plate telling everyone that she needs to show them something. Savitri will ask didn't she prepare Kheer?
Katha will say she needs to tell them an important matter before it. She asks Yuvraj to tell them. Yuvraj will feel tensed.
Will Katha reveal Yuvraj's mistake?
Will Yuvraj confess his misdeeds?
All these questions will be answered in the upcoming episodes.
Stay tuned to this space for more updates about Muskuraane Ki Vajah Tum ho.