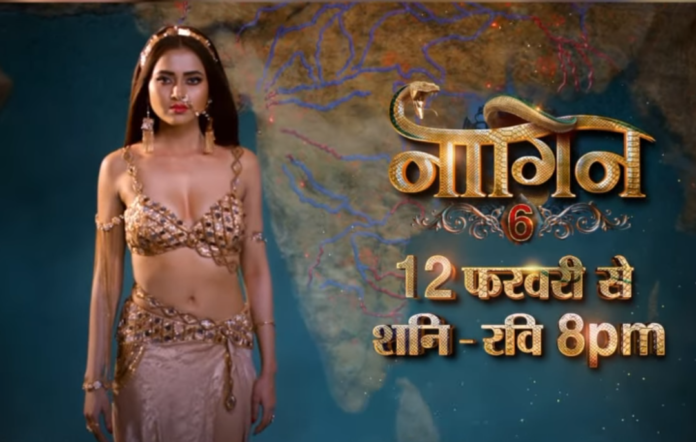 Naagin 6 13th March 2022 Written Update on SerialGossip.in
The episode starts with Rishabh bringing out Lalith from the swamp. He asks if he knows who dumps him in the swamp. Lalith tells them he knows who did this to him. Mehek tells she will kill everyone but Pratha stops her telling they can't kill innocent people. Rishabh asks Lalith to tell who's that person. Lalith loses his consciousness. They take him to home. Pratha tells Mehek that she has to leave home before Rishabh otherwise he will doubt her. Lalith gains consciousness. Seema sends Anya to call Rishabh. Rishabh meets Pratha and asks what's she doing. Pratha tells it's her room too. Rishabh asks won't she feel worried for his Dad? He asks her why she says something and does something. Anya calls him telling Lalith gained consciousness. Rishabh asks Lalith who's the person. Lalith informs that a girl's eyes are sharp and he goes to Pratha then goes towards Urvashi and calls her baby. The doctor informs Rishabh and Seema that Lalith's brain nerve got damaged and asks them to not give any stress.
Reem informs Rishabh that Inspector Vijay came. Rishabh goes to meet him. Reem tells Urvashi that none is thinking for their Dad. Inspector says secrets are behind palaces. Rishabh meets Vijay and tells you're correct we found Dad but Minister is still missing. Mehek overhears their conversation. Vijay tells him that their boss will trace this behind it.
At mandir, Mehek asks Pratha why Lalith didn't take their names. Pratha says I hypnotized him but it won't last for long and we can't kill him as everyone might suspect us. Urvashi packs her bags. Seema asks Urvashi how can Lalith calls her babes. Urvashi tells it's another matter and tells her she is leaving. Seema tells she can't leave. Pratha prays Shiv Ji to help them. Mehek tells Pratha that 4 Asur will definitely meet Lalith. Pratha asks if she gets any evidence in that room. Mehek tells she saw a locker in another room. Pratha tells they may find who's another Asur through that locker, she thanks Shiv Ji and they leaves. Reem asks her Mom to come. Ritesh requests Reem to stay for some time until lockdown gets settled. Reem agrees. Urvashi leaves the room.
Ritesh tells Reem that he needs Pratha in his life and asks her to help him if she wants Rishabh in her life. Pratha and Mehek return home. Pratha tells her to bring Lalith to secret room telling she have to hide snake skin from cupboard before Rishabh sees it. Urvashi hears her words and thinks which things she wants to hide from cupboard. Pratha enters the room and gets stunned to see the arrangements. Rishabh gets romantic with Pratha and dances with her. Rishabh asks why she is feeling uncomfortable. Pratha tells him nothing and goes out telling Mom called her. Seema comes there and asks him to tell Pratha to try the outfits to know whether they are fit or not. Rishabh thinks why she lied. Ritesh sees Pratha and feels bad. He asks her to feel his pain placing her hand on his heart. She feels his pain. Rishabh sees them and suspects Pratha intentions. Pratha leaves telling him that he will feel better soon.
Mehek changes herself as Urvashi and brings Lalith to darkroom. Pratha holds him with her tail then she changes to cat. Mehek changes to eagle. Both of them attacks him. Seema notices Lalith is missing. Rishabh and others hears noises. Seema tells it's from dark room. They goes towards it. Lalith loses his consciousness then Pratha and Mehek open the locker with his fingerprint and takes out the box. Pratha sends box with Mehek and hides behind curtain but she didn't notice that her bangle falls on the ground. Seema and other notices Lalith is unconscious and locker is open. Puneet sprinkles water on his face. Lalith gains consciousness. Seema asks who brought him to the dark room. Lalith tells them Urvashi brings him and changed her forms. Urvashi tells she didn't. They takes him out from darkroom. Rishabh searches the room. Pratha leaves the room and notices some boy is taking Diya with her. Pratha opens the box which is of music. Mehek thinks how it helps them.
Eve teasers teases some girls. Inspector Shikha Sharma teaches them lesson. Vijay and his team came there and informs her about problem at Gujral place. She leaves to Gujral place and inquiries him who opened the locker. He tells them some magician is roaming in the house. Seema says don't know what's happening in the house. Inspector asks them if they doubt anyone. Urvashi tells her that Pratha is cause of all problems and talk bad about her. Inspector asks her to not talk bad about any girl. Lalith leaves without answering her questions. Rishabh cousin tries to get intimate with Diya and his brother records it. Diya realises their intentions then She stops him and runs from there taking the mobile. Urvashi finds snake skin in Pratha's cupboard and thinks Pratha is not a normal person Nd I have to expose this Pratha and she decides to destroy Pratha who ruined her both daughters' lives. Pratha comes there and gets shocked seeing her.
Episode ends.
Precap – Pratha finds Diya in an injured state. Mehek and Pratha join their powers to save the nation from Asur's.
Click to read: