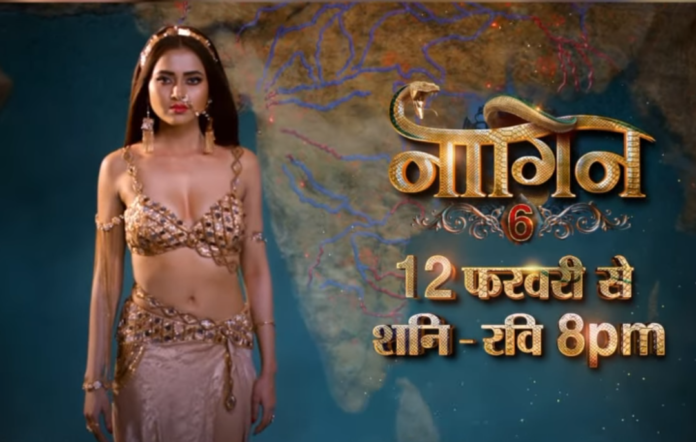 Naagin 6 16th April 2022 Written Update on SerialGossip.in
The episode starts with Pratha getting hurt because of a broken vase. Rishabh treats her wound then he asks her to sleep. Later in the night, Mehek enters Pratha's room and takes her with her. Rehan asks Sardar what is he doing in their house and asks if he is mad. Sardar tells him that he doesn't know his real intentions and why he hired Lalith. Rehan comments on Pratha. Sardar asks him to not comment on her. Pratha and Mehek enter the room and notice their Dad. He tells him that he got saved from the fire mishap and manages them by telling a fake story. Mehek says it's a good day as Srirama Navami is about to start which is Pratha's birthday. Sardar agrees. Mehek tells her that she has to perform pooja to her Naagmani for her long life. Sardar tells her that he will accompany her to pooja. They go to Neelgiri's mansion and recall their moments in that mansion.
Sardar asks Pratha to perform pooja in Brahma muhurta. Mehek tells her she has to perform Rudra Abhishek to Naagmani by removing it from her body. Pratha and Mehek chant the mantras. Pratha places her Naagmani on Shiv Linga. She performs Rudrabishekam. Sardar looks happy. Pratha places her Mani in the water vessel. Sardar changes Naagmani with diamond when Mehek and Pratha are praying to God closing their eyes. Nature calamity happens. Pratha takes the Mani and enters it into her body assuming it's Naagmani.
The next day, Pratha takes Samaira with her when Rehan tries to romance her. Sardar comes to the dining table and tells everyone that it's Pratha's birthday along with Sri Rama Navami. Seema wishes her happy birthday then she performs pooja. She asks Pratha and Rishabh to live as a happy couple and asks them to perform a pooja. Seema tells everyone that she will arrange a party for Pratha birthday. Rishabh wishes her. Pratha asks his Dad if he attends the birthday. He agrees. Rehan tells he will arrange ballroom party. Yash wishes her. Rehan tells his brother that Pratha is luring Yash and it's time to throw her out of the house. He calls Reem and invites her to see the moment of Pratha leaving the home. Mehek hears him and thinks to find what's he planning.
Rishabh sees Pratha is getting ready in a saree. He asks her to get ready in a modern dress. Rehan asks Sardar what's his plan. Sardar tells he will know it later. Rehan tells he will teach the lesson to Pratha. Sardar warns him to not do anything against Pratha. Later Sardar sees Naagmani and thinks to leave with Pratha and Mehek after ruining the nation. Mehek comes there to give him clothes. He tells her that he failed to search for the person Pratha dreamed to have. Pratha comes out in modern attire and gets ready. Rishabh helps her by making her wear the shoes. Pratha tells it's not needed from his side. He tells he is doing it for his Mom and you said that money matters to you but your actions are the opposite. Pratha asks him to not think that she is good. She leaves in tears.
Urvashi comes to the party with her daughter. Rehen tells Seema that he invited them. Seema welcomes them. Rishabh and Pratha come out wearing the mask. She asks her Dad to bless her so that she will reach the 5th Asur. Everyone gifts her. Then Pratha and Rishabh dance to the song. Rehan promises Reem that he will give the best gift to her and he messages to Yash from Pratha's mobile that Pratha needs him and jot his husband and asks him to hug her in front of everyone. Sardar promises to Changistan people that he will ruin India with Shesh Naagin's poison. Yash thinks how it's possible. Lalith takes Urvashi and dances with her. While changing partners change and Pratha goes to Yash. After the dance Rehan sends out Pratha telling Rishabh is calling her. Yash follows her. Rishabh brings cake and asks for Pratha. Rehan and his brother tell she went to Garden side. Yash back hugs her. She throws him. Rishabh comes there and asks what are they doing. Yash tells she messaged him. Rehan and Reem come there and talks against Pratha. Rishabh slaps Rehan for trying to damage Pratha's image. Reem asks how he finds the truth. Sardar comes there and tells him that he informed him. Rishabh warns to kill Rehen if repeats it. Pratha leaves. Later Sardar slaps Rehan for going against him. Rehan tells he will show what he can do. Sardar thinks Pratha will find that the real Naagmani is not with her and he has to save Pratha as Mani is with him.
Pratha recalls how Rishabh stood for her. She cuts the cake and feeds him. Then he feeds her and clears the cake from her lips. Reem leaves from there in anger. Urvashi follows her. In the night, Pratha sees Rishabh on the sofa and covers him with a blanket. The next day, Rishabh wakes up Pratha and asks her to get ready. Pratha and Rishabh come down. Yash apologizes to them for his mistake. Rishabh forgives him and warns him to never eye at his wife. Seema asks them to eat tiffin. Rishabh tells they are going to somewhere and leaves with Pratha. Sardar thinks Pratha will come to her once she finds that her power is going down. Pratha asks Rishabh where is he taking. Rishabh tells, he is taking to give her a birthday gift and asks if she ever get gifts. She tells him she got gifts from her Dad. Rishabh takes Pratha to jewellery store and asks her to buy the diamond set which she likes. Pratha tells these are expensive. He asks her to choose one and thinks that he will make her get what she wanted and thinks why he didn't like of anything wrong happens with her. Pratha goes to couple globe and asks can she get it. Rishabh asks if she takes it leaving crores worth diamonds. Pratha agrees. Rishabh thinks Pratha is not behind money. He tells her that it's first birthday gift to her from his side. Some goons hijack the jewellery store.
Episode ends.
Precap – Sardar tells Pratha that he is a traitor and mastermind who's going to add poison to ice. Pratha asks where is the poison. He tells her that Vish and Amruth are in her blood and he will use it. Pratha runs from him and prays to God to help her. Rama's flag hits Sardar's hand which makes him drop the Nagamani then Pratha takes the Mani and aims an arrow at her father.
Click to read