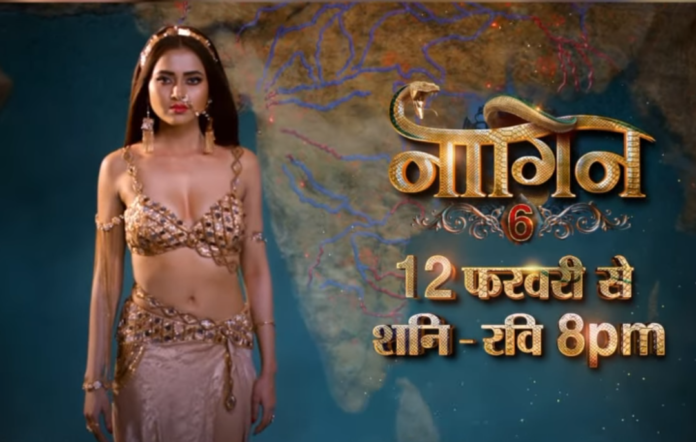 Naagin 6 19th November 2022 Written Update on SerialGossip.in
The episode starts with Anmol, Tara, Urvashi, and Rudra's parents celebrating their success. Urvashi promises Siyali to make her get her rights. Rithwik comes to Anmol's house in anger. Anmol's friend informs Anmol that Rithwik is here. Anmol sends Siyali to manage Rithwik. Siyali meets Rithwik and tells him that Anmol doesn't like him. Rithwik doesn't believe her. Rudra meets Anmol and tells her that he is going outside. Rithwik comes there and confronts Anmol and Rudra why they are cheating on him. Rudra stops him and tells him that they are engaged and warns him to leave. Rithwik sadly sees Siyali and leaves. Siyali follows him and tells him that he deserves a better girl. He asks her to come for a tea date tomorrow. Siyali says she can't come out because of her grandma's advice. Rithwik insists her to come. Prathna hears their conversation.
The next day, Urvashi and Pathali discuss Pratha and Prathna will definitely plan something against us so we need to be careful. They discuss about Anmol's Mehendi. Rithwik calls Siyali and tells her that he is waiting for her outside. Siyali goes to meet him without telling anyone. Urvashi asks Anmol to take Siyali help in preparation. They notice Siyali is not at home. Anmol's friends say she may go out with Rithwik. Urvashi notices Siyali leaving with Rithwik. That time another Rithwik comes there and asks where is Siyali. Urvashi thinks Naagin takes Siyali and goes out to save her granddaughter.
Rithwik stops the car in the isolated place and flirts with her. Urvashi comes there with Naagmani and tells him that she will expose his real identity using Naagmani. Siyali tries to stop her. Urvashi scolds her and says she bought this Naagmani out to save her. Urvashi places Naagmani on Rithwik head but he didn't change. Urvashi realizes he is not Naagin. She scolds her granddaughter, tells her to never come out, and tells him to come to their place if he wants to meet her. They leave.
Pratha and Prathna confront Rithwik why he helped them and ask who's he. Rithwik says he has the same motive as them. Pratha asks what he meant. He takes them with him to show something. Urvashi returns home and scolds her granddaughter. Patali notices Naagmani with Urvashi and slaps her for taking it out. Rithwik makes Pratha and Prathna meet his dad Rajesh Pratap Singh. Rajesh says my dad asked me to trust you always but you trusted Suhasini not my dad and our revenge and aim are the same. Pratha apologizes to Rajesh for not supporting him when he needs his help.
Urvashi says Pratha and Prathna can't do anything as they didn't know where we hid Rishabh. Patali says still, don't take out Naagmani from this house. She leaves. Urvashi warns Siyali to not go out and permits her to call Rithwik to their house. Rithwik joins hands with Pratha and Prathna and tells them that their revenge is the same.
Suhasini asks Rithwik if he met his dad. He says she is his family. She asks him to forget Anmol and asks him to tell her if he likes anyone. He says he likes Siyali but her granny doesn't like me. Urvashi comes there. Suhasini proposes for Rithwik and Siyali marriage. Urvashi says they can think later and leaves. Suhasini thinks about how can Urvashi deny her proposal. Rithwik meets Pratha and Prathna. He tells them he is successful to make Suhasini against Urvashi and tells them to implement their plan.
Pratha and Prathna go inside. They change like Urvashi and Patali. They discuss killing Rithwik. Suhasini hears their talk and thinks to remove Urvashi from her way. Pratha and Prathna change like Suhansini and Rithwik. They discuss removing Urvashi from their way near Urvashi. Urvashi hears it and decides to kill Suhasini.
Later Urvashi calls Suhasini to meet her. Urvashi thinks to shoot Suhasini. Suhasini comes there and injects medicine into Urvashi which makes her weak then she tries to kill Urvashi with her pistol. Patali hits Suhasini with a rod. She tells Urvashi that she returns her favor by saving her. Urvashi thanks her. She shoots into Suhasini's both arms and leaves. Rithwik comes there with Pratha and Prathna. Suhasini asks Rithwik to help her but he denies it. Pratha says your grandson doesn't want to help you and this is the result of your bad work. They leave. Suhasini dies.
In Naagmahal, Pratha gives water to Prathna noticing she is coughing. Prathna says they didn't know where they hid Rishabh and how to clear Rudra's doubts. She says she won't become Shesh Naagin once her revenge is done. Pratha says she too thinks the same but it didn't happen so it's good if they accept their Naagin reality. Pratha notices Payal near her grandmother's photo. She asks Prathna to wear those anklets as they protect her. Prathna asks her to wear it but Pratha denies it and orders her to wear it. Rudra misses Prathna.
Rudra's parents meet him and tell him that Prathna is not correct for him and tells him that Anmol is correct for him and he gets Anmol's property too. Rudra says he doesn't want any property and he won't leave the person who tried to harm his parents. He leaves. Sanjana tells her husband that they need to take their share of the money after selling Naagmani. She notices Ranjeet is busy in chatting and asks with whom he is chatting. He tells her he is chatting with Urvashi and praises her. Sanjana doesn't like it. Prathna enters someplace where she gets scared and falls down from the cliff. Snakes surround her.
Episode ends.
Precap – Vasuki Naagraj attack Pratha and Prathna for entering his place. Anmol stabs Prathna from behind. Pratha gets shocked
Click to read