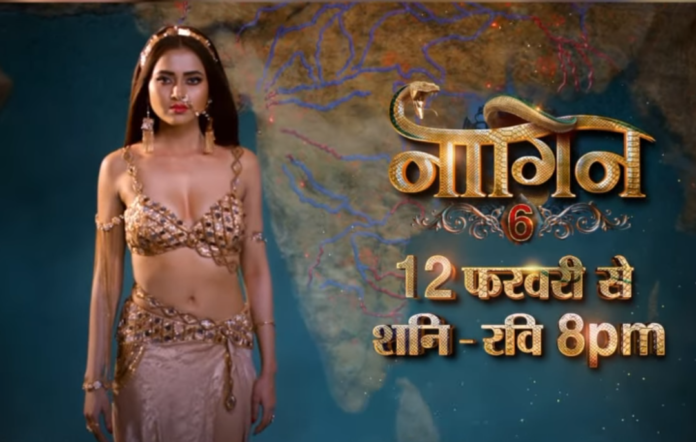 Naagin 6 1st May 2022 Written Update on TellyExpress.com
The episode starts with Rishabh performing Parikrama with Seema. He waits for Pratha. Seema acts dizzy and sends Rishabh back side of the temple to get water for her from the well then she calls her men and asks them to kill Rishabh. Pratha tells Mehek that she is worried for Rishabh. She prays Shiv Ji to show her way. A white snake comes to help them. Pratha and Mehek follow that snake. Rishabh notices there is no well. Some men kidnap Rishabh. Snake white disappears at the backside door of the temple. Pratha asks Mehek to hide. Seema comes out. Pratha asks her where is Rishabh. Seema tells her he is dead and tries to wipe out her kumkum but she gets hurt and her blood becomes her sindoor. Pratha tells her that she will save her husband. She leaves from there. Seema thinks she has to leave to the place where she goes every Thursday. Pratha asks Mehek to follow Seema. She follows the sign of tyres to find Rishabh.
Seema comes to the cave where a lady sings a lullaby for a doll in the prison. Seema shouts to stop her song. She takes the doll from that lady. Lady requests her to not kill her baby. Seema twists her baby doll head and tells she doesn't know whether her kid is alive or not. Rishabh tells Henchman that he won't let anything happens to his nation. Those goons ask him to tell his last wish as no one come to save him. Pratha handles them and makes them release Rishabh. She fires the gun. Goon aims a gun at her telling the bullet in her gun is over. Goons catch Rishabh. Pratha thinks she can't take Naagin form in front of Rishabh. She asks them to kill her telling she can't see if anything happens to her love. Goon says they will kill both. Earth shatters for sometime. Rishabh falls on the stone and loses his consciousness. Mehek comes there. Pratha changes to her Naagin form and kills those henchmen by calling other snakes. Seema asks Chanda to tell her truth to save her kid. Chanda tells she doesn't know. Seema burns that doll and tells her that she will die in Kaalkotri if she doesn't reveal the truth to her. Seema leaves locking her in the cell.
Mehek tells Pratha that Seema went to a cave kind of place where she is questioning the lady for something and that Lady is singing Lohri. Pratha thinks who can be that lady. Pratha applies Lep to Rishabh. Rishabh asks Pratha to leave with Seema telling he doesn't bear if something happens to them. Pratha hugs him. Rishabh tells he still remembers her Lohri. Pratha recalls Mehek words. Rishabh asks Pratha to help him to arrange a surprise for his Mom whose birthday is on tomorrow. Pratha asks him to give his childhood photos with his Mom. He tells those are in the storeroom and Mom doesnt like me to see them. Pratha goes to store room with Mehek and searches for old photos where Pratha sees a photo of Chanda with Lalith. Pratha tells Mehek that she will surprise Seema.
The next day every one wishes Seema. Urvashi asks them to arrange a good party. Pratha says they are throwing a good party. Rishabh tells he wants them to leave somewhere as he doesn't want them to face risk because of him. Seema tells she doesn't leave him until she tells her bye. Mehek brings the cake. Seema cuts the cake and thinks if Pratha added any poison. Pratha tells she didn't add any poison and asks her to eat it after tasting it. Seema gets scared and asks Pratha to feed it to Lalith. Lalith leaves from there. Rishabh takes the cake piece from Pratha to feed to Seema. She makes him drop it and eats another piece. Pratha tells her that she will make her eat cake at the birthday party. Seema thinks what's Pratha planning against her.
Pratha and Mehek enter the cave by throwing biscuits at the dogs. Where they see the Chanda singing the Lullaby. Pratha says, Mom. Chanda begs them to not kill her son Rishabh. She asks if her baby is fine. Seema tells Lalith that Rishabh is going to be dead in tonight. She asks Doctor to give an injection to Rishabh and gives him money. Seema says Pratha challenged me but I will surprise her by killing Rishabh. Mehek asks who's she. Pratha says she is the mother of Rishabh. She tells Chanda that her son is fine and tells her that it's time for her to meet her son Rishabh. Rishabh searches for Pratha. Seema tells him she might be getting ready. She calls Doctor and asks him to give an injection to Rishabh for his pain. Pratha sees it and shouts saying she can't see anyone taking the injection. She throws Seema and asks Doctor to give her a pain killer to Seema. Pratha tells Seema that it just makes her drowsy as she removed poison in it. Doctor injects her. Pratha calls Seema to the stage and asks her to open the curtains to witness the surprise. Seema opens it and gets shocked seeing the collage of old photos. Seema asks Lalith how Seema reached to storeroom. Lalith tells key is with him and there is no gap for her to enter. Pratha says it's time to relive old moments. Rishabh plays guitar. Pratha dresses up like old Seema. They dance with each other. Seema looks upstairs and gets shocked seeing Chanda.
Episode ends.
Click to read