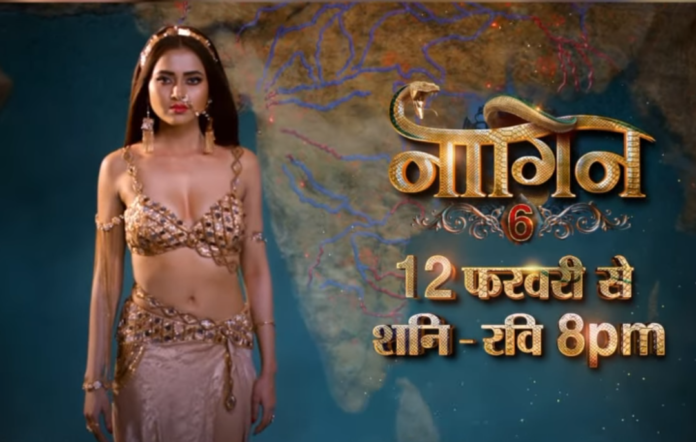 Naagin 6 23rd April 2022 Written Update on SerialGossip.in
The episode starts with Pratha taking Naagmani. She takes the Bow and Arrow of Ram Ji and aims at her Dad but she drops it seeing her Dad. Sardar says he knows that she can't kill him. Mahak prays Ramji to help her sister and kill the Ravan. Arrow automatically flies and hits Sardar. Pratha and Mehek run to him. Pratha sings him Lohri which he used to sing for her. He sees his wife's soul and leaves his last breath in Pratha's life. Pratha tells Mehek that they become orphans again. Mehek consoles her.
Pratha and Rishabh wish everyone a happy Baisakhi. Radha asks her about her teacher. Mehek tells he went. Seema asks them to start Baisakhi and tells everyone that she wants Pratha to prepare sweet. Urvashi comes there with Reem. Seema welcomes them. Urvashi tells her she came to meet Yash. She asks Yash to marry her daughter. Reem tries to stop her mom. Urvashi tells her Rishabh can never marry you so don't miss a good person like Yash. Rishabh thinks why he is not getting hurt hearing her marriage news. He leaves. Pratha thinks he might be hurt. Yash tells he can't marry her as his marriage is fixed in childhood and he will marry her.
Later Pratha meets Yash and asks how he rejected the alliance in front of everyone? You may tell them taking aside. Yash says I'm here to get my girl and that's you. Pratha slaps him and questions how can he talk with her in this way. Reem asks Rishabh why he didn't stop her Mom when she is talking about her marriage. Yash tells her that their marriage is fixed in childhood and you will know who am I in the next day when we get married. Pratha gets angry and tells him that she is Naagin and shows him her Naagin roop. Yash reveals his identity that he is Shesh Naag and we are a destined couple and you have to marry me to know the other Asurs, so break your relationship with Rishabh. He opens the door and sees Rishabh. Pratha leaves from another side. Rishabh asks if Pratha is in his room. Yash denies.
Rishabh sees Pratha and asks her to do the arrangements for Samaira and Rehan. He leaves. Mehek notices she is in tears and asks her what happened. Pratha hugs her. Later Rishabh asks her to wear the Mehendi. Anya asks the designer to place a beautiful Mehendi on Pratha's hand. Pratha sees Rishabh sadly. Yash comes there with Dhol people. Everyone dances happily. Yash takes Pratha's hand. He tells everyone that they love each other so much. Everyone gets shocked. Yash says It's Pratha with whom my marriage is fixed. Seema asks him to shut up. Yash says Pratha knows it too, your son married her by cheating and his intentions are wrong so it's better to break their marriage. Rishabh asks Pratha if it's true. Pratha says yes, I Love Yash. Seema says you ruined our respect. She is about to throw Pratha out but Rishabh stops her telling not in this way. He tells Pratha that she can marry the person whom she loves. He tells everyone that he will rectify his mistake by making them get married. Seema tells Pratha that she will make her get married to Yash with all rituals. Pratha looks on.
Later Pratha goes to Shiv Mandir and questions why he is testing her. How can she break her marriage with Rishabh? Mehek comes there and tells it's your fate and written in the book that you have to marry Shesh Naag in your 21 years to know about other Asur and you have to marry for this war forgetting your love. Pratha breaks down in tears. Urvashi irritates Seema. Seema gets angry. She asks Anya to bring Pratha. Rehan and his brother misbehave with her. She complains to Samaira but she doesn't believe her words. Rishabh sends Anya telling he will get Pratha ready. Pratha tries to tell something but he stops her and asks if she is sad about not getting good alimony? She tries to talk but he stops and makes her wear the jewelry in tears. Pratha too cries. He breaks her mangal sutra asking her to marry the one she likes and leaves by steeping on it. Pratha collects those pieces. Rishabh takes Pratha to the venue. They recall their moments with each other. Seema takes Pratha. Yash tells her that there is a custom that they have to get married in the Kuldevi temple.
Mehek asks Seema to attend Rehan's wedding at home and tells her that she will accompany Pratha. Pratha and Rishabh think they love each other. Rishabh sees she is taking the couple globe. Yash takes Pratha with him. Mehek plays the Sankaravam. Yash forwards his hand for Pratha. Mehek tells her it's time for her to get married to Yash. She asks her to give her hand to Shesh naag. Pratha gives her hand.
Episode ends.
Precap – Pratha gets married to Yash. Her tears emit fire in the mandap. Another side Rishabh gets married to Reem.