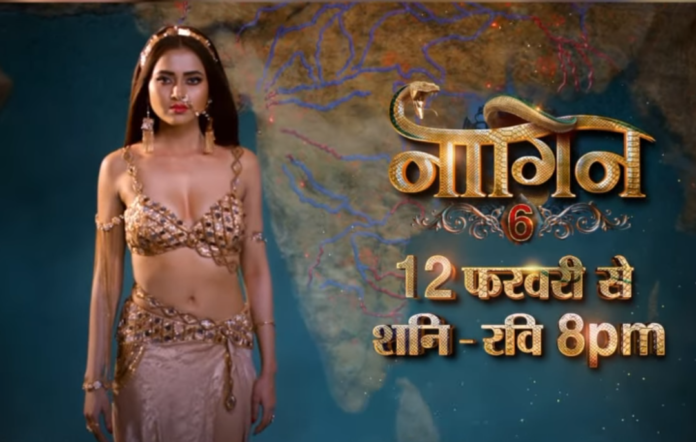 Naagin 6 27th February 2022 Written Update on SerialGossip.in
The episode starts with Seema telling Ritesh that she will make him marry the person he loves I.e Pratha and if Urvashi wants to leave from here then she can but it will leave break your daughters Reem's heart so tell to Reem who's getting ready in a room that she can't marry Rishabh. Urvashi tells Rhea that she will get a good match for her and she will make Rhea agree to Reem's marriage. Lalith thinks his wife did it amazingly. Urvashi apologises to Seema. Seema tells Ritesh that his happiness is matter to her. Ritesh happily hugs her. Pratha tells she didn't agree to the marriage. Seema asks Pratha's Dad permission for the marriage. He tells he will talk with Pratha and he takes Pratha aside and asks her to marry Ritesh telling her that he can't bear that her alliance got cancelled. Rishabh asks Ritesh to rethink telling Pratha is not good but Ritesh refuses to listen to him. Pratha agrees to marry Ritesh and she informs everyone. Seema asks her to get ready as they are getting married post 12. Dadi asks them to take Shiv Ji's blessings as they are marrying in the auspicious muhurta of Maha Shivaratri. Dadi dashes with Mehek and apologises to gee
Mehek slowly comes to her Naagin form because of the Chaturdi of Mahashivarari and she thinks to goes to the place where no one sees her and she thinks to strengthen her power but she couldn't move anywhere and she becomes fully Naagin and she starts to loose her powers when moonlight falls in her but she slowly gains some strength and she prays Shiv Ji to help her to find the second Asur. Reem gets ready while recalling how Rishabh used to help her since their childhood. Rishabh comes to her and tells her that Ritesh cancelled his marriage with Rhea and he is marrying Pratha. Reem tells she won't marry him in this condition. Rishabh asks what is his mistake in it? Reem tells she can't then he breaks the vase and confesses how much he loves her and asks if she gets it. Reem hugs him happily. Mehek comes to Shiv Ji temple and she prays him to help her and she falls unconscious. So many snakes comes on Mehek and give her their strength and she wakes up gaining strength.
Lalith and his family comes to Mandir. Lalith on call asks them to finish the consignment. Dadi tells couples that one who performs pooja tonight will be destined for 7births. Urvashi and Seema discuss their friendship can't be broken because of normal issues. Ritesh tries to see Pratha's face lifting her veil but Dadi stops him saying he can't see before marriage. Pratha's veil caught fire and Ritesh saves her by pouring water. Dadi asks Pratha to come after changing her dress.
Mehek comes to search second Asur with the power Naagins gave her. Lilith feels excited about his deal and he performs Aarti with Seema and tells her that he is happy with her performance and hopes these marriages happen without any mistakes. Reem and Rishabh perform Aarti and Reem leaves the Aarti plate because of the heat. Pratha holds it to save the Aarti. Dadi tells she did good then Ritesh and Pratha perform Aarti. Mehek gives aarti to everyone to find the culprit and she notices a mole in Lalith's hand. Lalith goes when he receives the call that consignment came. Mehek follows him. Lalith turns and she changes herself as Minister. Minister asks why he looks shocked. Lalith says they thought he left their team. Minister tells no. Lalith tells him about their meeting spot for deal and they leaves.
Reem asks her Mom about Rhea. Urvashi tells Rhea is strong so don't worry. Seema comes there and tells pandit finalized 2 am muhurta and she sees Reem is sad and assures to treat her like their daughter and she asms Pratha to come but Pratha stops telling she will come with her Dad. Pratha lifts her veil. Rishabh leaves in his car after seeing Pratha. Lalith asks where is the consignment. Mehek changes to Naagin form and he gets shocked and asks who's she. Mehek tells she came to kill her. Mayank takes Pratha aside and tells your marriage gets halted as I saw that security changing to Naagin and she is taking your father in law to kill him. Lalith smiles and tells he already know that she is Naagin as Mayank informed me that you killed the minister. Mayank says Lalith didn't give any money to me to save him and Naagin is angry so she will kill him. Pratha tells she will save him. Lalith says I gave money to Sepras and they will kill you. Lalith claps his hands and Sepras surrounds her with snake music. Lalith tells her there Sepras will kill her. Naagin falls to the floor. Pratha searches for him. Lalith tells her he will see who will come to save her. Mayank falls in front of Rishabh's car and tells he and his Dad are going to be dead. Rishabh holds his collar and questions what's he saying. Mayank in his drunken state says I already told to Pratha that your Dad's life is in danger. Mehek dances for the sepras music then she falls on the floor and they caught her in a net. Pratha comes there. Lalith asks why she came. Pratha says I came for you and asks if he is fine. Lalith tells he is fine. Rishabh searches for his Dad. Pratha says she is security incarge right. Lalith says she is Naagin. Pratha shouts and I'm Naagin too and she tells she is the Sarvashresth Naagin and she changes herself in Naagin form which shocks Lalith.
Episode ends.
Precap –
Click to read