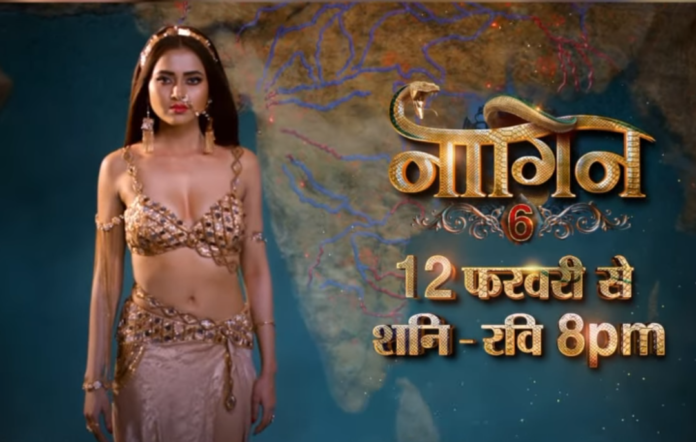 Naagin 6 29th May 2022 Written Update on SerialGossip.in
The episode starts with Pratha and Rishabh performing Shaanti havan. Beeji says she kept this Shaanti Havan for their peace. Rishabh thinks about Seema's words that she gave him poison. Pratha holds his hands telling she is with him. Reem asks Ritesh about his mom. He tells her the phone is not connecting. Mehek calls Pratha aside and tells her they need to go there. Rishabh and his family members watch the news that the pandemic is ended overnight. Rishabh thinks about how everything changed overnight and which Kalash they are talking about. He goes to the room. Pratha and Mehek leave the room. Rishabh notices the tails of the snake and asks what happened. Mehek and Pratha meet the professor. Professor folds his hands infront of them and thanks to them for saving the nation from the pandemic. Pratha holds his hands. Professor senses some danger is coming toward Pratha and warns her. Pratha tells nothing can happen to her when she has Rishabh with her.
Anya and her sister plan with the family that it's better if they give free space to Pratha and Rishabh. Everyone leaves the house. Anya asks Pratha to prepare dinner for Rishabh. They leave. Rishabh stops Pratha and asks her to get ready telling she has a surprise. Pratha comes out and she feels happy seeing their photos on the projector. Rishabh romances with her. He makes her sleep on the sofa. Lights go off and she is gone missing. Rishabh searches for her. Pratha shouts saying she is here. Rishabh goes in that way and notices Seema holding Pratha at knifepoint. Rishabh requests her to leave Pratha. Seema says she won't leave the person who snatched everything from her.
Rishabh requests her to leave his wife. Seema tells him she will expose the secret of Pratha to him. Rishabh asks what's that secret. Seema says Pratha is Icchadari shesh naagin. Rishabh asks what's she saying. Seema threatens Pratha that she will kill her if she won't change to her real form. Rishabh says there is nothing in that way. He asks her to not hurt Pratha. Seema asks Pratha to reveal her secret. Pratha makes Seema falls down from the building. Everyone surrounds Seema. They take her to the hospital.
At the hospital, Doctor tells Seema went into a coma. Rishabh requests Doctor to save his mother. Doctor agrees. Pratha supports him. He tells her he can't hate her even though she tried to kill him. Chanda calls Pratha and tells her that she wants her to know the secret of Rishabh's childhood. Pratha asks what's it. Rishabh calls her. Pratha disconnects the call telling her she will call her later. Chanda thinks Pratha must know it. Later Rishabh feels mesmerized seeing sleeping Pratha. She wakes up. They both shares what they thought during their first meeting. Rishabh tells Pratha that he is an undercover agent along with an army officer that's why he married her but he started loving her with time. Pratha hugs him. He promises her that he won't hide anything from her and he asks her to not hide any secrets from him. Pratha looks on for hiding her real identity. Rishabh kisses her. They consummate their marriage.
The next day, Mehek teases Pratha and tells her that she is happy for her. Mehek says you want to live normal but you can't live in that way as you're shesh naagin. Pratha says you're true, I'm going to reveal the truth to Rishabh Ji and I want to live a normal life with him and I can't hide this secret from him so I have to leave my powers or he needs to know my real identity. Mehek warns her not to do it. Pratha tells her she will sacrifice her powers on the full moon night. Mehek goes downstairs. Chanda tells Mehek that she wants to share some secret with Pratha regarding Rishabh's birth. Mehek asks her to tell her but Chanda refuses telling she needs to tell to Pratha. Reem calls her mom and shares her condition. Urvashi asks her to move on with Ritesh. Reem curses Pratha's happiness. Mehek warns her to not think about her sister in that way.
Rishabh hugs Pratha. He tells her that he is going to join his job the next day and we have today to enjoy. Pratha tells him that she has to tell him the truth about her before she is going to do it on a full moon night. Rishabh asks her to tell him. He goes to the cupboard and takes the Shesh Naagin book. He asks what's in that book. Pratha tries to take the book. Rishabh confronts Pratha about her truth. Pratha asks him to give her some time telling him she is going to change soon. Rishabh takes the book and notices it's about the life of a Shesh Naagin. Pratha requests him for some time to tell him the truth. Rishabh throws the book and asks her if she is cheating him by hiding his identity as naagin. He swears on their love and asks her to tell him who's she. Pratha tells she is Naagin. Rishabh says you cheated me, he warns her to not show her face to him. She request him to listen to her.
Episode ends.
Precap – Angel warns Pratha about her decision but she is adamant to get her love. Pratha sacrifices her love but Rishabh cheats her with Mehek. How Pratha is going to handle it.
Click to read