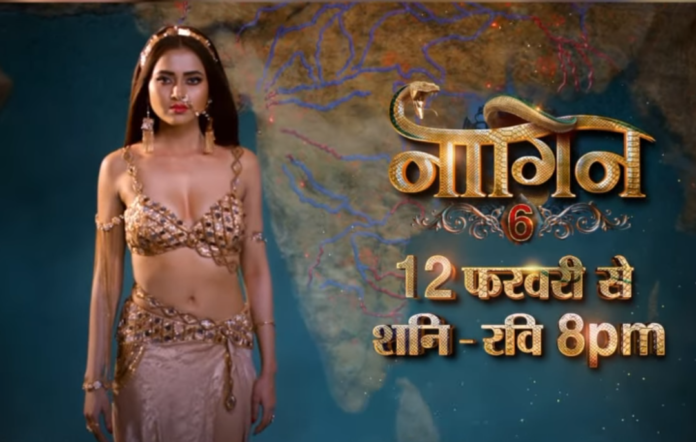 Naagin 6 6th March 2022 Written Update on SerialGossip.in
The episode starts with Seema asking Pandit to start the marriage. Pandit asks which marriage he has to start first. Seema asks him to start Pratha and Ritesh's marriage and till then the minister will be here to perform Kanyadaan. Urvashi agrees and she sees Pratha is worried and she thinks of exposing Pratha by removing her veil and she turns fan to Pratha's side. Mehek notices it and she creates heavy wind toofan which spoils everything and stops others from seeing Pratha's real face. Pratha thanks her sister and sets her veil. Urvashi tells Seema that muhurta is wrong and asks her to change it. Seema recalls Lalith's warning tells it won't and she asks someone to check power. Ritesh and Rishabh go to check the fuse. Rishabh apologizes to him for insisting him to change his decision. Ritesh tells fine and he repairs the current and tells he is excited. Rishabh gives him a drink. Both drink it.
Grooms comes to the mandap. Urvashi sees Rishabh is not in good state and asks if he is fine. He nods yes. Pandit asks Pratha's dad to do kanyadaan and he asks Pratha to forward her hand. Pratha feels tensed. Reem asks Rishabh why he is moving. Urvashi makes her forward her hand forcefully. Seema asks why she did it. Urvashi says she is slow that's why helped her as we have another marriage. Once Kanyadaan is done he asks them to take Saath Pheras. Pratha promises to save her nation while taking pheras. Pandit asks them to remove the veil of Pratha for the sindoor ritual. Pratha chants Shiv Ji's mantra. Her face becomes normal because of her Nagmani, when Urvashi removes her veil which relaxes Mehek and she signs Pratha everything is good. Groom applies indoor to her.
Reem asks Rishabh to stand up for varmala. Groom falls on the mandap. Reem gets shocked seeing it's Ritesh. Everyone says who married Pratha. Urvashi gets angry and throws water at Ritesh's face and she tells Seema that her son is bad and spoiled her daughter's life. Baby says some mistake might happen. Urvashi says glad my daughters got saved. Baby asks who married Pratha. Ritesh gains consciousness and removes the sehra from the groom and everyone gets shocked seeing Rishabh. Rishabh recalls how he mixed pills in Ritesh's drink as he wants to marry Pratha to save his country.
Reem asks why he betrayed her. Seema questions him why he did it. Rishabh tells he wants to marry her. Seema slaps him. Ritesh beats his brother for cheating on him. Other people stop him. Radha says Pratha is the bad omen and she is creating problems in our house. Ritesh tells he will kill Rishabh and throws him at havan. Pratha saves him from falling in the havan. Ritesh asks how can he do it with his love. Rishabh says marriage us happened so accept it. Reem holds his collar and questions him why he cheated her. Urvashi says marriage is fun to these people and she tries to remove mangalsutra from Pratha's neck but Rishabh stops her and warns her to not touch his wife and he tells everyone that he loves Pratha not Reem. Seema says you love Reem since childhood. Rishabh says those feelings for Reem is not love and I realised what's love seeing Pratha. Ritesh gets angry. Rishabh tells Ritesh that I was jealous of you that's why swapped our positions when I got the chance. Ritesh gets angry and leaves from there. Mehek feels bad for her sister and thinks to talk with her.
Mehek receives private message on Lalith phone about consignment and she leaves to find the other four people but they escape from there in a helicopter hearing the sound. Mehek avenges to find them. Rishabh and Pratha perform pooja in the mandir. Baby asks Seema about Lalith. Seema calls him. Mehek thinks to find the other four Asur through Lalith's phone. Anya and her cousin tease Pratha for her first night. Pratha thinks Rishabh married her because of his suspicion. Rishabh drinks seeing his photo with Reem and he destroys the decorations in anger. Diya falls and their poster gets burned. Rishabh shouts in pain. Pratha smirks seeing him. Rishsbh holds her neck and confronts her to tell her motive.
Episode ends.
Precap – Pratha's real identity gets exposed while she is saving Reem.
Click to read