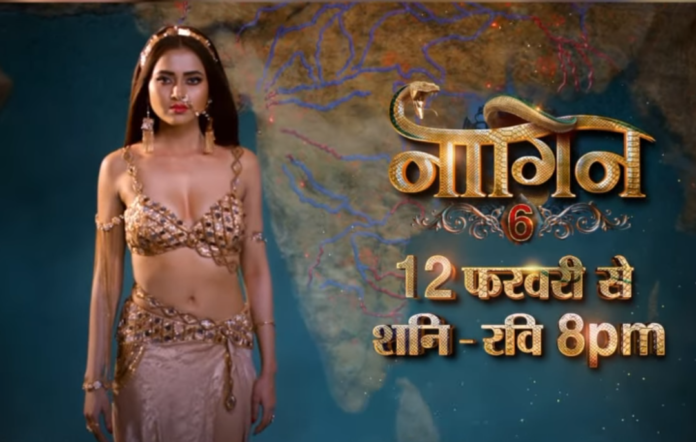 Naagin 6 7th May 2022 Written Update on SerialGossip.in
The episode starts with Seema getting shocked seeing Chanda. She goes upstairs and notices a fire is erupting in the upstairs. Rishabh goes to save her but he is stuck in the fire. Chanda saves him. Seema asks if he is fine. Rishabh tells he is fine and asks who's Chanda. Seema and Lalith get shocked. Pratha says it's her birthday surprise. She is your Mom's best friend who has forgotten her memory as she lost her son. Rishabh asks Chanda to take a rest. Everyone leaves. Pratha threatens Seema that she will expose her soon by revealing the secret of past to Rishabh.
Later, Seema sees Chanda in her room and tries to enter the room but the snakes stop her. Snake catches Seema. Pratha smiles. Seema makes her leave saying Rishabh is coming. She tells her that she can't save Chanda from her. Pratha books Seema seeing Rishabh. She takes Seema to massage Chanda's feet. While massaging Seema feels pain. Rishabh tells Chanda that he will massage her. He asks her to consider him as her son. He massages her feet. Pratha tells Seema she can't harm Chanda. Chanda tells Rishabh that it's fine. He comes out. Pratha tells him that Seema is going to prepare milk for him. Rishabh thanks her.
Seema prepares milk. She searches for servants. Pratha tells she makes everyone sleep with her Nidra vish. She warns Seema. Seema leaves. Mehek comes there and tells Pratha that she is teaching a good lesson to Seema but why Dadi didn't react seeing Chanda. Pratha tells Dadi reacted. Dadi goes to meet Chanda in her room. She comes out seeing someone. Pratha questions Dadi to reveal the truth of the past to save Rishabh. Dadi leaves seeing someone. The next day, Pratha wakes up and notices Rishabh returning home. She said where he went. He tells her that he went to drop Dadi off at Airport for her pilgrimage tour. Pratha thinks how to know about the past as Seema sends Dadi from here. Then she notices the Ring of Dadi and naagamahal in the mirror. She thinks their past is related to Naagmahal.
Mehek and Pratha go to Naagmahal. They notice it's a ring of their Grandmother. They place ring in their grandmother's photo and that photo opens the way to some cave. Where they notice a secret room which guards by the serpent. That serpent doesn't allow them inside. Pratha performs shiv tandava to get the way of the secret room to find the secrets of the past. Serpent sees her Naagmani and allows her to go to the secret room. Mehek asks Pratha to enter inside before the door gets closed. Pratha enters inside. Where Scorpios and Rats bit her feet. Mehek thinks why Pratha is not coming out. Pratha sees the box where she notices a mark on Seema's face. Mehek alerts Pratha that door is getting closed and asks her to come out soon. They come out before the door gets closed. Pratha shows the photo to Mehek and tells who can tell the truth as Seema send Dadi from here. Mehek tells they will find truth in naagmahal but don't know where. Pratha tells they have to leave to home before Seema does something. Lalith notices none at home. He thinks to meet Chanda but gets shocked seeing Seema attacking Rishabh through the chandelier.
Rishabh gains consciousness and asks what's happening. Seema tells him that Chanda is his mother and she makes her alive to know the truth from her. Lalith pleads her to leave Rishabh. Seema says you and your Mom broke your promise by giving ring to Pratha. She gets to know that I'm Maha Asur and I won't leave your son. Lalith tells he doesn't know about the Kalash. Seema cuts the rope. The chandelier falls on Rishabh. Lalith cries seeing his son. He tells he doesn't know about the amruth Kalash. Pratha and Mehek come to their real forms. Pratha tells him that they did it to make him reveal the truth. Lalith tells Seema won't leave him. Pratha asns what's Seema photo doing in the Naagmahal. Lalith tells her she is Tara, grandmother of Seema.
Lalith says it's a story of your grandmother. Pandit tells future to Naageswari that her granddaughter will become the Shesh Naagin but he told her that it can't be Mehek as she has danger with Water and he predicted that her second granddaughter can become the Shesh Naagin. Nageswari doubts his prediction as no one knows whom your mother carrying. That day Tara met your Grandmother and asks her for Naagmani but she denies to give it. Tara asks for Amrit Kalash but your grandmother didn't give it to her. Tara leaves telling she will ruin them once she gets the Kalash. Nageswari marks their face of Tara and tells her daughter that they have to save the Amrit Kalash with their power. Pratha asks him how Tara learns about Amrit Kalash and how Chanda knows about it. Lalith says he will tell.
Episode ends.
Precap – Pratha fights with a moongose.
Click to read