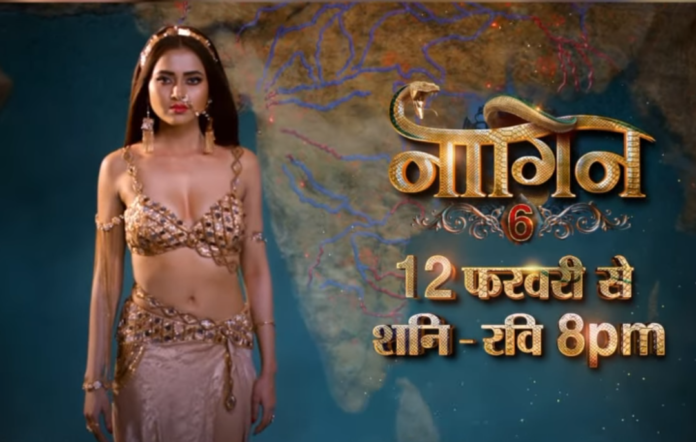 Naagin 6 8th May 2022 Written Update on SerialGossip.in
The episode starts with Seema sending Chanda to the temple with her mother and she traps Lalith. He gets attracted to her. Lalith says we didn't know that night turns to be dark night for us. Nageswari and her daughter take out Kalash to place it in a safe place. Tara comes there with Chanda. She warns her to give the Kalash. Nageswari denies. Tara makes her get attacked with her eagle's team. Nageswari changes to her Naagin form and attached those eagles. Chanda hides behind bushes. Eagles leave from there. Tara attacks Naageswarir from behind. Nageswari leaves the Kalash, and some Amrit from Kalash falls on her daughter's stomach. Naageswari thinks Pandit's prediction is true and my second granddaughter is going to be a special one. She asks her daughter to take Amrit Kalash to a safe place. She locks Tara with her power. Chanda follows her and finds where she hid the Kalash. Tara sees Chanda following her and thinks to knows it from her. Naageswari leaves her last breath.
Chanda returns home and notices Seema trapped her husband by having affair. Chanda says you sent me in place of you to trap my husband but you failed to achieve Amrit Kalash and I know that place and will never tell you about it. She tries to leave from there. Tara returns home and asks Chanda to tell the truth where Naagin hid the Kalash. Chanda denies. Seema hits her with a vase and makes her unconscious. She tells her Mom that she will find the truth from Chanda. Lalith says Seema captivated Chanda for many years and I didn't even know where she hid her. Pratha asks if he knows about Kalash. He tells he doesn't know. Mehek and Pratha meet Professor. Professor warns them to be careful for the next 7 days as Dark night is again coming and these people will try to ruin our nation. Seema plans with foreigners that they have to use the dark night to ruin the nation. Rishabh assures to the higher official that he will save the nation. Professor asks them to find the Amrit Kalash as soon as possible as Shesh Naagin's power going to get weakened in the dark night. Lalith hears Seema's conversation. Rishabh gets someone's call. Rishabh meets Lalith. Lalith tells Rishabh how Seema is planning a big attack against their nation. Rishabh aims a gun at him and tells him that he gets to know that he is a traitor from his mother. Seema comes there and starts her acting. Rishabh warns him to surrender. Pratha and Mehek come there. Lalith runs from there. Rishabh follows him. Seema tells Pratha and Mehek that they can't do anything to her.
Lalith tells Rishabh that he is misunderstanding him and asks him to listen to his words. Rishabh denies. Lalith threatens to kill himself by jumping from the building if he doesn't listen to the truth. The cops arrive there. Pratha asks him to listen to his Dad words. Lalith is about to reveal Seema's truth but she pushes him from the building. Everyone surrounds him. Rishabh takes him to the hospital.
Rehan and others talk against Pratha. Samaira asks then to not talk bad about her. Rehan sends her to get cashew. She gets Cashew and notices they are watching the backside photos of girls. Samaira slaps him. Pratha confronts Seema why she tried to kill her husband. Seema says you came to kill Asur's and I'm helping you. Pratha says you're the real Asur not him. Seema says Rishabh will kill him. Pratha says Rishabh will kill you if he finds your truth. Seema says days will change and Joe you love your husband but one day you will push your husband too.
Rishabh calls Seema. Seema talks to Doctor and asks about her husband. Doctor tells he is out of danger. Mehek tells Pratha that they have to get the Kalash. Pratha sends Mehek to Chanda's room. She notices Samaira is crying and asks her what happened. Samaira says Yash is not attending calls and I need him. Pratha recalls her promise to Yash that she will take care of Samaira. She asks what happened. Samaira tells Rehan is having affairs with many. Pratha hugs her and agrees to support her in her decision. Rehan sees them. Later he misbehaves with Samaira. Pratha feeds good to Chanda and asks her to tell what happened in the dark night. Seema comes there and claps saying she is doing her work. Pratha warns her to expose her one day and tells her that she will unite Rishabh with her biological mother by making her regain her memory. Seema tells she won't get scared of her threats. Pratha is about to change to her shake form. Rishabh comes there.
Seema calls Rishabh and tells him that he gets a good daughter in law for her as she is doing so much for Chanda. Rishabh tells he wants to do something for Chanda. Seema tells Pratha that she has a surprise for her. She takes Chanda with her and makes her meet Raynaksh saying he is her son. Chanda touches that person and tells them he can't be her son as he is just 2 years old. Seema says he is grown up. He tells her he is her son. Chanda in tears hugs him. Seema asks Pratha how she likes her surprise. Raynaksh thanks everyone for taking care of his mother. He tells them he will take her with him. Pratha thinks she can't let him take her. She stops him telling they are connected to Chanda. Rishabh asks Raynaksh to stay with them for tonight. He agrees and takes her inside. While going inside his hand touches Mehek. Her hands turn red. She thinks about why it happened with his touch. Pratha checks Mehek and thinks how her skin got burned. Then she tells Mehek that Chanda is regaining her memory and we have to find truth from her before Raynaksh takes her. Someone hears their conversation. Mehek thinks to enter Chanda room from back but someone attacks her. Pratha thinks who attacked her. Raynaksh comes there and tells his touch burned her sisters skin and still she wants to meet his mother. Pratha says i know that you're not son of Chanda and tells him that she is shesh Naagin. Raynaksh tells her that he is Icchadari Nevla who's enemy of them and tells her that she won't get the Kalash. Pratha says he can't stop her. Both fight with eachother. He attacks her and tells her that Nevla always wins over snake and warns her to stay away from Chanda.
Episode ends.
Precap – war between Pratha and Naksh. Pratha thinks to use her brain to win the battle
Click to read