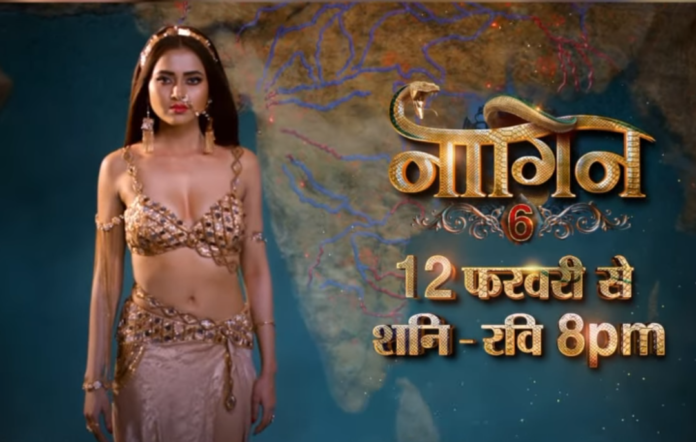 Naagin 6 Spoilers, Upcoming Story, Latest Gossip , Future Story, Latest News and Upcoming Twist on SerialGossip.in
Color TV popular show Naagin 6 is witnessing an interesting track where Pratha learns of the rivalry between Tara and her grandmother
As reported earlier it's shown that Chanda saves Rishabh. Rishabh asks who's she. Pratha surprises Seema and introduces Chanda as best friend of Seema to everyone. Pratha threatens Seema that she will expose her soon by revealing the secret of past to Rishabh. Later Seema tries to meet Chanda but she doesn't meet due to the snake's who guard her room. Pratha and Mehek discuss that why Seema kept Chanda captive for so many years. Pratha tells Dadi reacted.
Dadi goes to meet Chanda in her room. She comes out seeing someone. Pratha questions Dadi to reveal the truth of the past to save Rishabh. Dadi leaves seeing someone. The next day, Pratha wakes up and notices Rishabh returning home. She asks where he went. He tells her that he went to drop Dadi off at Airport for her pilgrimage tour. Pratha thinks how to know about the past as Seema sends Dadi from here. Then she notices the Ring of Dadi and naagamahal in the mirror. She thinks their past is related to Naagmahal.
Mehek and Pratha go to Naagmahal where Pratha opens a secret room with ring help. Pratha sees the box where she notices a mark on Seema's face. Mehek alerts Pratha that door is getting closed and asks her to come out soon. They come out before the door gets closed. Mehek and Pratha changes themselves like Seema and Rishabh. Lalith gets scared seeing Rishabh's life is at risk and he tells that he doesn't know about Amrit Kalash. They reveal their real forms and question him about the Kalash.
Pratha asks what's Seema photo doing in the Naagmahal. Lalith tells her she is Tara, the grandmother of Seema. Lilith reveals how Pratha's grandmother used to protect Amrit Kalash from Tara. Pratha asks him how Tara learns about Amrit Kalash and how Chanda knows about it. Lalith says he will tell.
In the upcoming episode, viewers going to witness Pratha will learn how Tara killed her grandmother.
Seems will tell Pratha that she will ruin the nation if she gets Amrit Kalash. Pratha will face the Ichadari mongoose who is their long lasting enemy while trying to find the Kalash. Ichaadari mongoose will attack Pratha.
Will Pratha be able to save Rishabh? Can Pratha beat her enemy?
All these questions will be answered in the upcoming episodes.
To know what will happen next in your favorite show, keep checking this space for new and exclusive updates of Naagin 6.