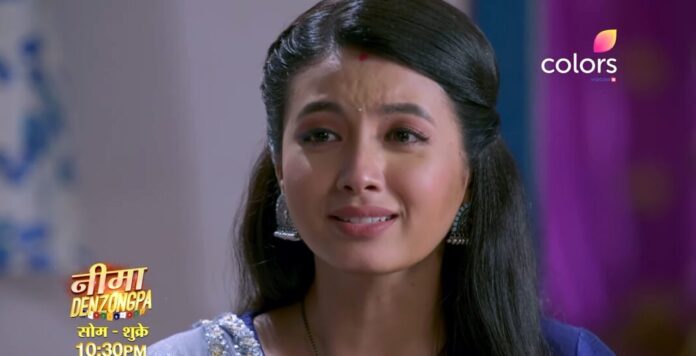 Nima Denzongpa Spoilers, Upcoming Story, Latest Gossip , Future Story, Latest News and Upcoming Twist on SerialGossip.in
Colors TVs Popular show Nima Denzongpa never fails to entertain it's audience with new twists and turns of the story. Currently serial focusing on Nima to plot against Sujatha
In the previous episode we saw; Traffic police caught Manav and scold him for talking in phone while driving. He said to him he stopped the auto while talking. He demanded him to show license to him. He find out it's missing in auto and shared to police he forgot it in home. He demanded him to bring it from home.
Later Nima was searching in Sujatha's house but couldn't find any photos of her with Manav. Sujatha enquired Sunita about the photos. She shared to her Suresh was his son and Tulika was her daughter in law. She said granddaughter were big.
She enquired Sujatha how many years she got married? She said to him as 15 years. She enquired about kids. Sujatha excused her and left. Sunita alert Nima there. She collide with Manav there. Sujatha notices them together and lashed out at them.
Nima said to her she came here searching for her. Sunita said they shifted opposite to them. Sujatha got disappointed hearing it. Nima shared to Sunita she couldn't find their photo in her house.
Later Sujatha argued with Manav there over Nima's issue. Manav supported Nima there. Nima took doctor's advise to cure Virat.
In the upcoming episode viewers will see; Nima will plan to bring Virat to his mansion. He will get his flashes of his past. Virat will faint in stress.
Nima will admit him in hospital and learn his health condition from Doctor. Sujatha will panic when Manav fail to return home. Later Nima will ask Doctor to contact Sujatha and share his health condition to her.
What will happen next? Will Nima help Virat to get back his memories? When will Sujatha get caught?
Upcoming episode will answer to our all questions stay tune with our space for more updates.