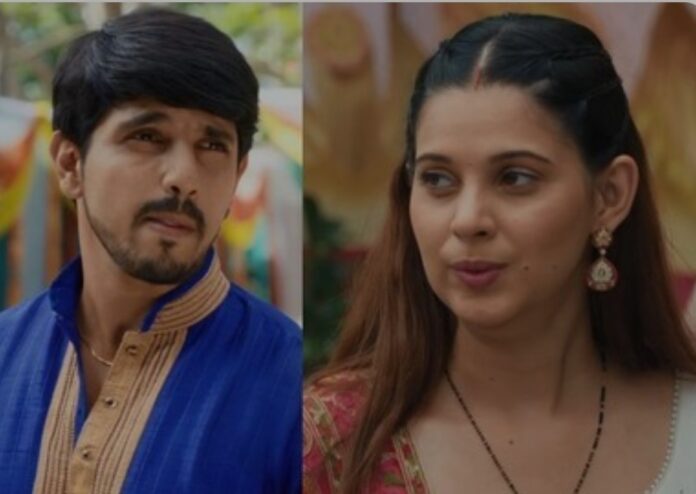 Pandya Store 13th June 2022 Written Update on SerialGossip.in
The episode starts with the bus in which Shiva is returning home meeting with an accident. At Pandya house guests ask where Shiva is. Gautam says that he must be on the way. Family gets worried as Shiva isn't answering the calls. Gautam tries to contact him again and finds his phone switched off. He wonders why Shiva switched off his phone.
In the accident spot police team is trying to find how many people got injured and how many died in the accident. Dhara stops Krish from closing the main door as Shiva hasn't returned home yet. Raavi scolds Shiva and says that she isn't able to contact him. Dhara and Rishita say that Shiva must have stuck somewhere and assure Raavi that he will reach soon. Raavi says that he can at least make a call to inform them and gets worried. Gautam calls Manzoor and asks if Shiva left from there.
Manzoor says that Shiva was traveling in the bus which met with an accident. But Gautam doesn't hear Manzoor due to network issue. There police says to collect the details of people traveled in the bus to inform their families. Here Gautam says that Shiva is late due to the bad weather. He asks Raavi to rest. Dhara takes Raavi. Gautam says to Rishita to serve food for Suman. The latter says that she will eat with all of them after Shiva's return.
Dhara reassures a worried Raavi and leaves asking her to rest. Dev says to Rishita to go and sleep. Rishita refuses. They will wake her up once Shiva will come. Dhara also agrees with Dev. Rishita leaves. Gautam convinces Suman to rest and takes her to her room. Raavi tries to contact Shiva and wonders where he is.
Meanwhile an officer picks up Shiva's wallet. Raavi talks to Shiva's photo on her mobile. She says I love you. She requests him to return home and promises that she will never fight with him. She hears a sound and goes to check thinking Shiva has come. She drops her phone accidentally and it's broken.
Rishita is worried about Shiva. Dev reassures her He says that they will celebrate Shiva's birthday the next day morning. He gives her medicine and puts her to sleep. However Dev is also worried about Shiva. Gautam feels anxious that Shiva hasn't returned home yet and expresses it to Dhara.
The latter is also feeling anxious. She scolds Shiva for not informing them by calling if he was stuck somewhere. Krish says that he will go and bring Shiva back home. Dhara prohibits him to go out as the weather is bad. Krish agrees and sits on the remote by mistake. The tv turns on.
Dhara, Gautam and Krish get shocked on seeing the news about the bus accident. Dev tries to contact Shiva and wonders where he is. Dhara asks Gautam if Shiva was in this house. Krish says that it's not necessary that Shiva was in that bus. He gets water for her. Dhara refuses to drink it. She cries and asks Gautam to answer her. Dev comes there. He also sees the news about the bus accident and looks on shocked. Dhara says to Gautam to bring Shiva. Gautam and Krish get ready to leave.
Dev wants to accompany them, but Gautam says him to be at home. Dhara stops Gautam and says that she wants Shiva safe and sound. Gautam says to Dhara to keep Raavi away from this news. She already considers herself unlucky and doesn't know how she will react after knowing this. Gautam and Krish is about to leave. Raavi arrives there. Family looks on shocked.
The episode ends.
Precap: Krish shouts Shiva on seeing a covered dead body. Prafulla comes to Raavi and tells about the accident. Raavi looks on shocked.
Click to read