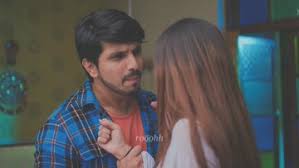 Pandya Store 15th June 2022 Written Update on SerialGossip.in
The episode starts with Gautam crying on finding Shiva's name on the passengers list. Krish assures Gautam that Shiva must be alive, it's just bus' passengers list. They come to the inspector. They say Shiva's seat number and ask where he is. Gautam gets angry when the inspector says that many dead bodies aren't identified. He says crying that he is alive.
The inspector calms him down and says to go and collect his belongings. Gautam and Krish find Shiva's wallet. They see that there's some blood on it. Gautam and Krish cry on seeing their family photo and Raavi's one anklet in the wallet. Gautam receives call from the family, but he doesn't answer it. The officer says them to identify the body. Krish says that it can't be Shiva.
Prafulla watches the the news channel. She learns about the accident news. She spots Krish on TV. The channel stops airing as her subscription comes ended. She wonders what Krish is doing there. She decides to enquire Suman. Krish sees the dead body. He gets shocked on seeing that body wearing Shiva's shoes. He shouts ShivaShiva and break into tears which shocks Gautam.
Raavi says that she's feeling anxious and wants to go to find Shiva. Family tries to stop her. Just then Kanta comes there shouting Suman. Raavi looks on confused. Kanta tells Suman about the bus accident.
Prafulla arrives there. She says that she saw the bus accident news and saw Krish and Gautam on that accident spot. She says that Shiva supposed to returne in that bus. Raavi and all are shocked on hearing this. The inspector asks Krish if he saw the body, if it's Shiva Pandya. Krish cries hardly. Gautam moves to Krish slowly.
Raavi checks the bus accident news on the phone. She recalls the saint that she can cause harm to Shiva. Raavi sits on the floor in the shock. Dhara says to not believe what's said on the news. She is confident that Gautam and Krish bring Shiva home safe. Here Gautam cries hugging Krish. He recalls Shiva and his moments with him.
Dhara assures Raavi that Shiva will return. Raavi asks if Shiva is fine, why Gautam didn't answer their calls. Dhara says that they have seen the news and they must have scared. Raavi says that Dhara knows about this accident, but she didn't tell her. She broke the TV so that she doesn't get to know. She says that Shiva's wife and she has the rights to know it. She would have gone with Gautam and Krish if she had got to know.
Rishita tries to stop Raavi. The latter jerks her hand. Dev asks what she's doing. Raavi says to Dev to not speak. She asks if Rishita didn't have rights to know if Dev was in the place of Shiva. She shouts why they hide this from her. Suman scolds Dhara for hiding the truth and demands to call Gautam. Dhara calls Gautam and says that he isn't answering it. Raavi shouts Shiva and cries.
The episode ends.
Precap: Gautam and Krish return home. Raavi asks Krish where Shiva is. Krish hands her the anklet and nods no shocking all. Raavi refuses to believe Shiva is dead.
Click to read