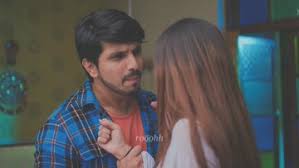 Pandya Store 16th June 2022 Written Update on SerialGossip.in
The episode starts with Raavi shouting Shiva and crying. Suman says to Raavi to not cry. She assures her that Shiva will return. Gautam and Krish return home with Shiva's ashes. Gautam sits outside of the house. He remembers Shiva and his moments. He cries hugging the ashes pot. Raavi says that Shiva has to come. She is about to leave the house, but stops on seeing Gautam and Krish. Raavi asks where Shiva is. Gautam silently looks down.
Raavi rushes outside of the house and calls out Shiva. Dhara asks Gautam why he didn't bring Shiva, where he is. Gautam stands silently. Raavi calls out Shiva and asks where he is. She says that she doesn't like his joke and asks him to come out now. There Dhara asks Gautam to answer. Here Raavi cries and says that she won't talk to Shiva if he doesn't come out. Dhara and Rishita ask Gautam to say where Shiva is.
Gautam rushes to Suman and breaks into tears. Raavi comes to Krish and asks to tell where Shiva is. Krish puts the anklet on Raavi's hand shocking the family. Raavi remembers Shiva making her wear that anklet. Krish cries. Raavi slaps Krish. She says that she asked him where Shiva is, what is the meaning of giving this anklet. She demands to say where Shiva is. Krish nods no crying shocking all. Dhara sits on the stairs getting shocked. Rishita and Dev rush to her. Raavi says that Shiva can't leave her. Prafulla hugs Raavi crying.
Dhara says to Gautam that he said that he will bring Shiva safely. She asks where Shiva is. She hits him. Gautam says that Shiva has gone so far, he can't save him. Gautam says that Shiva's body wasn't in the condition to bring him home. He cries saying that his face was destroyed, they recognized him with his shoes. Dhara refuses to believe this and cries hard.
Raavi says that Gautam is lying. She runs to her room. Suman says that no one was with Shiva during his last time. He shouts Shiva and bursts into tears. Raavi locks her up. Dhara and Prafulla request Raavi to open the door. Raavi says that she knows Shiva will return, she only wants her Shiva.
Raavi looks at Shiva's photo on the wall and caress it. She says that she's alive as Shiva is also fine. She says that he will return and prove all of them wrong. Dhara cries remembering her moments with Shiva. Raavi takes hugs Shiva's photo. She asks where he is and requests him to return. Family cries for Shiva.
The episode ends.
Precap: Raavi says to the family that this isn't Shiva's ashes and asks them to remove it from there. She says firmly to Dhara that her Shiva can't go away from her. Other side an unconscious Shiva is shown lying on a river side.
Click to read