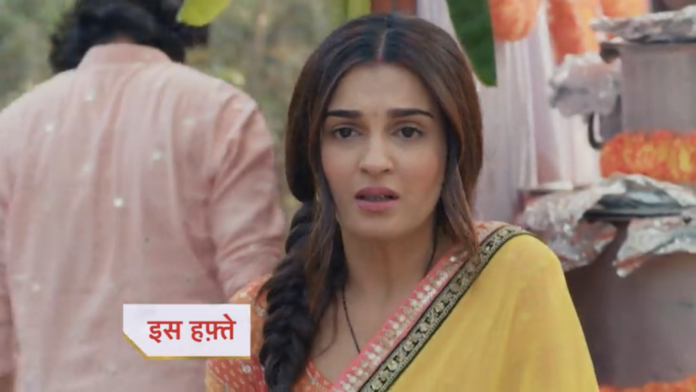 Pandya Store 22nd February 2022 Written Update on SerialGossip.in
The episode starts with Suman saying to Dhara to remove all the things of Raavi from Shiva's room by evening. Dhara says that Shiva and Raavi have had many big fights since their childhood, Yet they always find each other other. Suman says that she will become obstacles to their way. She blames Raavi for Dhara losing her child. She wants to register police complaint against Raavi, Prafulla and Anita. Dhara reminds Suman that she gave Raavi a week time to prove her innocence. Suman says that she gave it for her family's sake. She doesn't trust Raavi.
Raavi opens her suitcase. There are only newspapers in the bag. Raavi says that she didn't bring her clothes as she came only to make Prafulla confess the truth and return to Shiva. Prafulla comes to Raavi. She wants to put Raavi's clothes in her cupboard. Raavi stops Prafulla and urges her to call Pandyas and invite to their party.
Dhara requests Suman to drop the idea of registering a police complaint. Dhara says that she doesn't want to go through that pain again. She will be also questioned about the lost child. She won't be able to bear it. Suman asks if she doesn't want them to get punished. Dhara says that God will punish her culprit. Just then Prafulla calls Suman. The latter receives it. Prafulla says that she organized a party to celebrate Raavi's return and invites Suman and her whole family. Suman accepts the invitation. She asks Prafulla to invite her sons separately. Prafulla agrees
In the shop, Shiva shouts at Dev. He blames Dev for not arranging the stocks properly. Dev says that Shiva is venting out someone's anger on him. Shiva drops something. Dev says that Shiva is creating disorder and asks him to not do any work if can't. He adds that he feels pity for Raavi and she's right about Shiva. He's a monkey. Suman says to Dhara that God gave her an idea to punish Prafulla. She tells Dhara about Prafulla's party. Dhara asks if she will go. Suman says that they all will go. She phones her sons to inform them about it.
Shiva says to Dev that hereafter no one will call him monkey as Raavi left the househouse which shocks Dev. The latter blames Shiva for forcing her to leave the house. He says that Raavi is right and Shiva is wrong. He says that Raavi is wronged by getting married to Shiva. Shiva asks why he married Rishita leaving Raavi. He blames Dev for their trouble.
Gautam comes there and stops Shiva and Dev's fight. He asks them to call down. He says that he got Suman's call and said that they have to go Prafulla's house evening. Krish and Kriti are in the auto. Krish laments that Rishita had to come to the same café where they were. He decides to meet only in the backside of his house hereafter. Prafulla comes to Pandya shop and invites the Pandya brother to the party organized to celebrate Raavi's return. Shiva fumes in anger. Gautam agrees to come.
In the evening Pandyas get ready to go for the party. Other side Prafulla is making arrangements for the party. Raavi comes to her. Prafulla compliments her look. Raavi things in mind that she made arrangement to make Prafulla confess the truth. Rishita is in her office meeting. She's doing presentation. She receives Dev's call, but disconnects it. At Pandyas house, Dhara is surprised that her family is excited to go to Prafulla's party and asks if they aren't up to anything. Shiva says that they just want to enjoy the party's food. Just then Krish comes and says that he got all things Suman wanted. Dhara asks what if they are planning something. They deny. They all get ready to leave.
Raavi is worried that Pandyas haven't come yet. She phones Dhara to know where they're. Dhara receives the call, but she goes hearing music. Raavi also comes out of her house and looks on smiling. Dhara comes to her family and find them dancing. She asks who call the music band. Shiva says that he called them. They're also celebrating that Raavi left the house. Raavi warns Anita that Shiva won't leave her if she comes in front of his eyes. Anita leaves from there. Dhara gets suspicious and wonders what her family is up to. Raavi spikes a drink and gives it to Prafulla. The latter drinks it. Raavi thinks that Prafulla will confess her truth with the effects of the drugs.
The episode ends.
Precap: Raavi takes Prafulla's lie detector test to prove her innocent to Pandyas.
Click to read