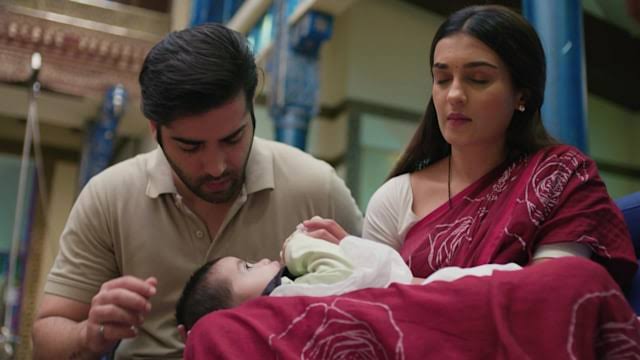 Pandya Store Spoilers, Upcoming Story, Latest Gossip , Future Story, Latest News and Upcoming Twist on SerialGossip.in
Star Plus' much loved daily soap Pandya Store is gearing up for more drama with Dhara getting angry when family tries to keep her away from the baby.
In the current story it's seen that Rishita gets furious when Dhara rebukes Kirti over phone. Rishita says that Dhara is angry with her for taking the baby without her permission and venting out her anger on Kirti. She warns Dhara to stay away from Kirti.
Raavi gets elated when a guy offers her 25,000 to make promote his restaurant on her social media account. Later Raavi shares this with Shiva who refuses to believe. He doubts something fushy and asks to return the money.
Raavi explains that how she can promote small businesses to get more customers by uploading their videos on her social media account. Shiva wants to tell this to the family. Raavi asks him to wait till she makes 2, 3 videos like this. He agrees.
However he gets shocked when Raavi says that she blocked other family members in the social media. Other hand Gautam learns that the baby's mother escaped from the hospital and grows worried of Dhara's reaction to this. He decides to find an orphanage for the baby.
In the upcoming episode it will be seen that Rishita will ask Suman to take care of the baby since she has to go out to attend a workshop. Suman will warn that she can get labor pain while she's out.
Rishita will get labor pain. She will reach the hospital by herself. Rishita will get hospitalized. Pandyas will rush to the hospital to see Rishita. Gautam will watch them hiding and will worry about family's reaction to the baby's mother ran away news.
What will happen next?
Will Dhara agree to send the baby to the orphanage?
Stay tuned with us for latest update of your favorite shows.