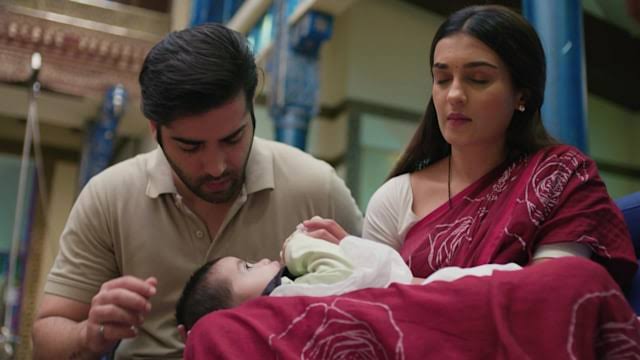 Pandya Store Spoilers, Upcoming Story, Latest Gossip , Future Story, Latest News and Upcoming Twist on SerialGossip.in
Star Plus' much loved daily soap Pandya Store is gearing up for more drama with Pandyas trying to keep the baby away from Dhara.
In the current story Suman agrees to help Gautam to keep Dhara away from the baby, but asks them especially Raavi to support her not Dhara.
Suman complains that Dhara forgot her duties and her responsibilities towards the house ever since the baby has come, so she decides to give the baby's responsibility to Raavi and Rishita while Dhara will only look after the house.
Dhara doesn't agree with Suman's decision stating that Raavi herself a child, so she isn't capable to take care of a baby. Raavi says that she can learn and asks Shiva to help her.
Dhara gets furious with Suman's decision and argues over this with Gautam. However Gautam firmly says that Dhara won't approach the baby after the problem she created last time due to her attachment towards a baby. Shiva and Raaavi have hard time to change baby's diaper.
Dhara comes takes the baby from them and changes his diaper. Dhara taunts them stating they shouldn't accepted any responsibilities that they couldn't complete. Dhara decides to take care of the baby against Suman's decision.
There in the hospital Gautam gets shocked when doctor asks him to pay 30,000 for the baby's mother's treatment. Here Dhara gets angry with Rishita for bringing the baby downstairs without asking her permission.
Later Dhara phones Kirti and rebukes her for humiliating Krish by revealing what had happened to the whole college.
In the upcoming episode it will be seen that Gautam will come to the hospital to pay the money. He will get shocked when doctor will tell him the baby's mother's is missing.
Dhara will tell Suman that only a mother can take good care of the baby. She will decide to return the baby to his mother. Gautam will get worried how Dhara will react knowing about the baby's mother's missing news. He will decide to find an orphanage for the baby.
What will happen next?
Will Dhara agree to send the baby to the orphanage?
Stay tuned with us for latest update of your favorite shows.