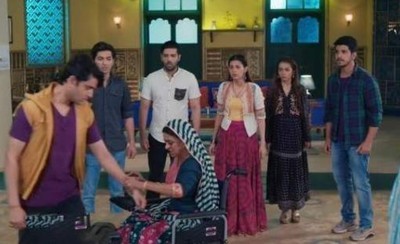 Pandya Store Spoilers, Upcoming Story, Latest Gossip , Future Story, Latest News and Upcoming Twist on SerialGossip.in
Star Plus' popular show Pandya Store is gearing up for more with Rishita accusing Krish of stealing money from Suman's box.
In the current story it's seen that Rishita accuses Krish of stealing money whereas Suman and Dhara defend Krish that he can steal money. Rishita gets tensed and asks to find Krish. All look for Krish while Suman checks Raavi's room.
Rishita says to Suman that she won't find money in the house as Krish stole it. She atgues with the family over the same. Meanwhile Kirti pleads with Janardan to let her go and marry Krish. Janardan is scared of getting taunted by the society's if her another daughter also elopes and gets married. He asks Kirti to convince Krish to move to his house.
Kirti says that Krish won't as he loves his family very much. Kamini asks how they both will survive without families support to which Kirti says that Krish has lot of money that he earned through online trading. She shows him the diamond necklace Krish gifted. He recognizes that it's a fake diamond and tells Kirti the same.
Kamini tries to manipulate Kirti against Krish stating that the disconfirms she will space at Pandyas house. Other hand Raavi sees Kirti's post on social account and tells Pandyas that Kirti is eloping with kids so Krish stole the money.
In the upcoming episode it will be shown that Krish will return home with a suitcase. He will takes out the money from his suitcase and will give it to Suman shocking all.
Sumam will realize that Krish had stolen the money. She will slap Krish. She will decide him to punish. She will drag him out to throw him out of the house shocking the Pandyas.
What will happen next? Will Pandyas agree for Krish and Kirti's alliance?
Will Krish agree for Janardan's condition and marry kirti?
Stay tuned to this space for latest update of your favorite Hindi shows.