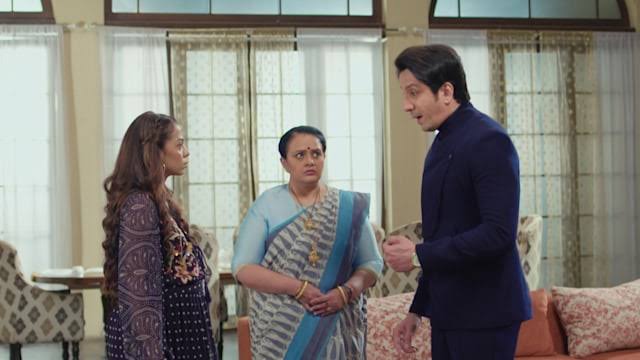 Pandya Store Spoilers, Upcoming Story, Latest Gossip , Future Story, Latest News and Upcoming Twist on SerialGossip.in
Star Plus' popular show Pandya Store is gearing up for more with Kirti and Krish planning to elope and get married.
In the current story it's seen that Dev warns Janardan that he won't be able to stop Krish returning to Pandyas house with Kirti in future. He adds that they don't have any problem accepting Kirti as their house daughter-in-law. But Rishita says that she has problem and gets determined to let Kirti and Krish marriage happen.
Kirti calls Krish and tells about Dev and Rishita visit. Kiri tells about Dev being against Krish becoming ghar ja mai while Rishita being against their marriage. Krish and Kirti decide to elope and get married. Krish wonders how to arrange money for the wedding.
Later Krish refuses to have dinner and misbehave with Pandyas. Gautam argues with Dhara for taking food plate to Krish. He blames Dhara's excessive love and her upbringing given to his brothers for all the current problem.
Shiva argues with Raavi for always being on the phone. Kirti gets caught while trying to elope. Suman gets shocked on learning her money has been stolen. Rishita doubts that Krish might have done this. But Suman and Dhara refuse to believe this.
In the upcoming episode it will be shown that Krish will return home with a suitcase. He will takes out the money from his suitcase and will give it to Suman shocking all.
Sumam will realize that Krish had stolen the money. She will slap Krish. She will decide him to punish. She will drag him out to throw him out of the house shocking the Pandyas.
What will happen next?
Will Pandyas agree for Krish and Kirti's alliance? Will Krish agree for Janardan's condition and marry kirti?
Stay tuned to this space for latest update of your favorite Hindi shows.