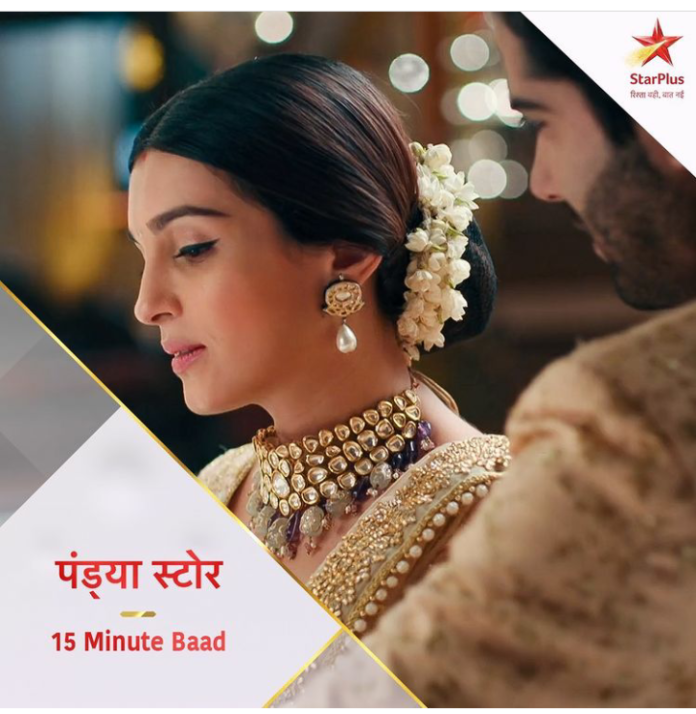 Pandya Store Upcoming Story, Spoilers, Latest Gossip, News, Twist On SerialGossip.in
Star Plus' popular daily soap "Pandya Store" is keeping its audience hooked to the show with its intresting storyline. The audience appreciates the bonding shared by the brothers and the chemistry between the main couples Gautam-Dhara, Shiva-Raavi and Dev-Rishita. The show gets ready for high voltage drama with Krish and Shiva setting a plan to scare Rishita.
In the current track, family gathers to set bonefire and spends some quality time together. Shiva arrives there in his new look and stuns everyone in the family. Shiva argues with Raavi. Dhara tries to lighten Shiva's mood and asks Dev if they can make Shiva to stand in the place of bonfire as he is always funing in anger. Dev agrees with Dhara and passes a comment enraging Shiva. Shiva and Dev gets ready to fight, but Gautam separates them.
Gautam demonstrates to the family that unity is the strength by asking to break a bunch of sticks which is impossible. Then he tells Rishita the importance of staying united as one family. He assures Rishita that they put efforts to understand her and asks Rishita to try to understand her family and walk with them. To everyone's surprise Rishita doesn't answer back Gautam and listens to him silently. Later Krish asks Shiva whether they should drop the plan of scaring Rishita. However Shiva is determined to execute the ghost plan.
Now in the upcoming episode, Shiva will dress like a ghost and will go to Rishita's room to scare her. Rishita will scream seeing the shadow.
Did Rishita realize her mistake? Will Rishita be able to adjust herself in the Pandya family?
Stay tuned with us for more news, spoilers and written updates of Pandya Store.