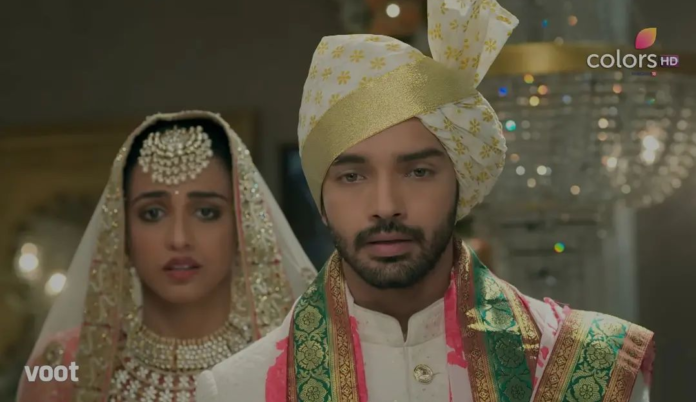 Pishachini Spoilers, Upcoming Story, Latest Gossip , Future Story, Latest News and Upcoming Twist on SerialGossip.in
Colors supernatural show Pishachini is gearing up for more drama with Pavitra informing Rocky about Pishachini. 
Previously, it was seen that Pavitra was curious to see the old mansion and asked Rocky about it. Rocky said that Dadaji told them that this place was cursed and bad incidents took place there because of her.
Pavitra asked if he was talking about Pishachini to which he replied yes. Pavitra went inside, opening the door. Pishachini, who was swinging inside the well, immediately felt it and said that some guests were coming. Pavitra looked inside the well out of curiosity and asked Rocky about it being too dark.
Rocky said that no one knew about it. He took Pavitra from there. Pishachini came out of the well and saw Pavitra with Rocky and mocked her saying that she came here also to end up as a witch like her.
Suman got a call from Sudha and was elated that they were coming to talk about Sanchit and their daughter's alliance.
Meanwhile, Pishachini was threatening Sudha's family by throwing their son into the well. She threatened to kill him if they would disobey her. On the other hand, Pavitra asked Rocky why he came to the airport.
Rocky admitted that he had come to meet her. Rocky asked Pavitra the reason for staying back in India. Pavitra told him that it was because of Pishachini and informed him that she was in Bareli.
Rocky laughed, thinking she was joking. At the house, the frog Maddy came to Shikha and instructed her to get ready to welcome Pishachini inside the house in an hour. Shikha looked on scared. 
In the upcoming episode, it will be seen that Pavitra will see that the guests will enter the Rajputs' house. She will realize that there are many new faces among the guest and will fear that Pishachini can take advantage of this and enter the house.
Meanwhile, Pishachini will make her entry into the house. She will laugh extending her nails and hair. Pavitra will look on shocked.
What will Pavitra do now? Can Pavitra stop Pishachini?
Stay tuned to this page for more updates about your favorite Hindi shows.