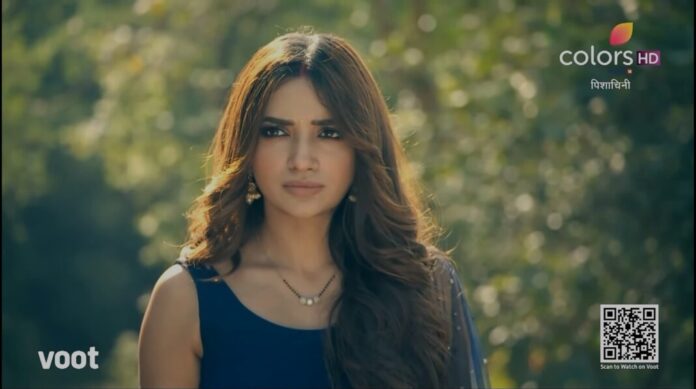 Pishachini Spoilers, Upcoming Story, Latest Gossip , Future Story, Latest News and Upcoming Twist on SerialGossip.in
Colors' popular supernatural show, Pishachini, is gearing up for more drama, with Rani trapping the Rajputs.
Previously, it was seen that the Rajputs escaped from the zombies and got into a house in the village. They decided to spend the night there as zombies couldn't attack them after sunset. Pavitra and Rocky went out to get water for Bubli. They were chased by a group of zombies.
Pavitra attacked the zombies using her divine power. However, the zombies surrounded them. Seeing the sun dawning, they escaped from there without making any noise. Rani was watching them hiding in the banyan tree.
 Shikha understood that Rani was alive by finding her flowers scattered on the ground. She went in front of that tree and urged Rani to kill Pavitra before they returned home.
Rani was shown hanging upside down on the tree waiting for the chance to attack Pavitra, while Pavitra and Rocky were changing car tyres to leave. 
In the upcoming episode, it will be seen that the Rajputs will leave in the car to return home. They will be stopped by Rani on their way. The Rajputs will be shocked to see Rani alive. Rani will tell how she tricked them and escaped using her child.
The Rajputs will try to accelerate the car and leave from there, but Rani will prevent the car from moving by holding it with her hair. Pavitra, Rocky, Vidya and Kanika will get ready to fight Rani. Kanika will ask what Rani wants at last.
Rani will say that she wants Pavitra to complete the work that Maha Pishach left incomplete. She will want to kill Pavitra and absorb her divine power to become more powerful. 
Will Rani be successful in her intention?
Stay tuned to this space for the latest updates of your favorite shows.