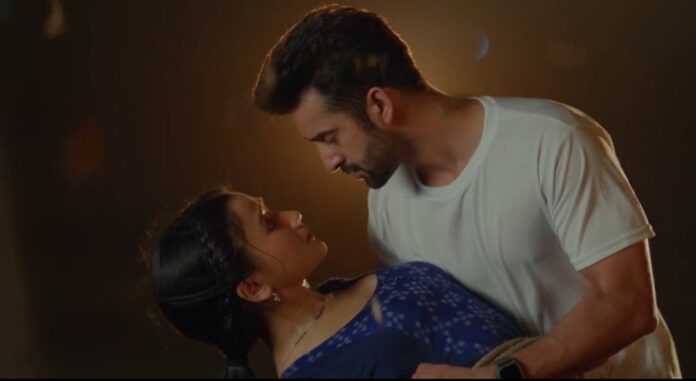 Rajjo 14th November 2022 Written Update On SerialGossip.in
The episode starts with Madhu cursing Rajjo and her mom. Chirag asks Madhu not to speak badly in the morning itself. Madhu says that Rajjo did badly to Arjun. She goes to see Arjun along with Jhilmil. Chirag says to Rajjo that one isn't wrong, the curse doesn't harm him/her. Chirag reminds her that there is only 15 minutes left for the race. He motivates Rajjo to win it. Rajjo runs from there.
Rajjo receives Kalindi's call. She answers it. Kalindi says that she saw Urvashi with their bank manager who handles Thakurs' bank accounts. She says that she got to know from him that Urvashi asked him to prepare the papers to break Arjun's FD. Rajjo asks what FD. Kalindi explains that Urvashi is trying to withdraw the money that Arjun had saved in the bank for a longtime without his permission. Rajjo is shocked to hear this. Kalindi says that she can't stop Urvashi as she is stuck in a problem. She says that she had a minor accident and hit someone's car. She asks Rajjo to stop Urvashi. She says that if Urvashi gets Arjun's sign then she will easily withdraw the money. She asks Rajjo to stop Urvashi in time else Arjun will be doomed. Rajjo gets in a dilemma. She wonders whether to go to participate in the race and win money for her mom's treatment or go to the hospital to save Arjun's money.
In the hospital, Urvashi talks to a half conscious Arjun and tries to make him sign the FD papers by saying that it's some hospital form. Arjun asks if she's really there. He only sees her everywhere. Urvashi is happy to hear Arjun, but her smile wades away when Arjun says Rajjo. Urvashi thinks of talking to Arjun about this after gaining his consciousness. Arjun keeps calling Rajjo. Urvashi lies to him that she is Rajjo. She takes Arjun's thumbs impression as he isn't in the condition to sign the paper. Urvashi thinks of giving Arjun's money to the moneylenders. Just then, Rajjo arrives there. She hears Arjun calling out to her. She says to Arjun that she has come and asks him to sleep peacefully while she is handling Urvashi. She calms Arjun down. Rajjo asks Urvashi to give her the papers.
Urvashi mocks Rajjo by comparing her to a dog, while Rajjo taunts her by comparing her to a vulture. Urvashi gets furious and tries to slap Rajjo. The latter holds her hand. Urvashi challenges Rajjo to take the papers from her hand. Rajjo and Urvashi fight. The paper falls on the floor. Rajjo picks it up first. Rajjo says to Urvashi that she knows how important this paper is, as someone saw her with the bank manager. She says to Arjun that she won't let any wrong happen to him. She says that she will always protect Arjun and his money. Rajjo leaves from there.
Urvashi phones Kalindi and says that Rajjo told her that someone saw her with the bank manager and she easily understood that it was her, so she didn't torture Rajjo in the last days. She threatens to tell Chirag about her affair with Rocky. In the hospital, Rajjo thinks of giving the FD papers to Kalindi. She hides after seeing Pushkar, Madhu, Pratap. They ask the doctor about Arjun's health.
The doctor says that Arjun's medicine box must be tampered. He says that it got either exposed in the air for a long time or it was stored at the wrong temperature. Madhu says that it's not possible as the medicine came in a closed ice box and everyone in the family knows about its reverse effects. She says that no one would dare to tamper with the box. Rajjo hears this and recalls finding Arjun's medicine outside Kalindi's room and her room floor being wet.
Pushkar, Madhu and Pratap go to Arjun's room. Madhu is shocked to find a hair strand on Arjun's dress. She shows the hair to Pratap and Pushkar and says that it's Rajjo's hair. She can recognize this as she already saw it. She understands that Rajjo came inside the room to see Arjun and slept, placing her head over Arjun's chest. She wondered why Urvashi didn't stop her. Madhu realizes that Chirag lied to her to help Rajjo. Chirag who has came there and hears this. He leaves from there, not wanting to face Madhu's wrath. Pushkar assures Madhu to talk to Urvashi about it.
Rajjo meets Kalindi. Rajjo tells Kalindi about what the doctor said about Arjun's medicine. She says that she found that box in front of her room and her room floor was wet. She asks how the box reached there. Kalindi says that any servant would have placed it there.
Rajjo says that the servant wouldn't have opened the box. She says that the box was tampered and any servant wouldn't have done that. Kalindi says that she doesn't know. She says that she will look into it later. Rajjo stops Kalindi and says that she won't spare the person who played with Arjun's life. Kalindi assures Rajjo to find the culprit. She changes the topic. She says that she saved Arjun's money from Urvashi by getting the FD papers. Rajjo looks on at Kalindi.
The episode ends.
Precap: Rajjo follows Urvashi. Urvashi disappears suddenly. Urvashi's parents say to Arjun that Urvashi is missing and Rajjo saw her last. Arjun asks Rajjo where Urvashi is. Arjun decides to find Urvashi. Arjun says that Rajjo will help to find Urvashi since she saw her last.
Also See: